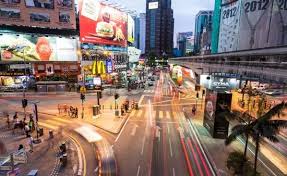 Digital Economy Will Make Up 60% of APAC GDP by 2021
YemenExtra
The digital economy in Asia-Pacific, or APAC, is expected to be worth $1.16 trillion by 2021, accounting for 60% of the region's GDP–up from about 6% last year, a new IDC study has found.
Commissioned by software giant Microsoft, the study, which polled 1,560 business decision makers across 15 APAC economies, also found that digital products and services enabled by mobility, cloud, the internet of things and artificial intelligence would grow the region's GDP by 0.8% each year, Computerweekly.com reported.
Speaking at a briefing in Singapore Wednesday, Daniel-Zoe Jimenez, IDC's research director for digital transformation and big data analytics, said this "big jump" will occur as more companies shift from embracing technology to become more productive, towards developing more digital products and services.
"Most digital transformation initiatives for the past three to four years were aimed at productivity improvements," Jimenez said, noting that such initiatives typically do not have direct impact on GDP figures.
Ralph Haupter, president of Microsoft Asia, attributed the growth of the digital economy to the rising adoption of AI. "Our customers are already demonstrating a strong sense of urgency to integrate AI into their business as part of their digital transformation initiatives," he said.
According to IDC, 40% of digital transformation initiatives will be supported by AI capabilities that will provide timely, critical insights for new operating and monetization models in APAC, excluding Japan.
Take Singapore's Keppel Urban Solutions, a new business unit under marine, property and infrastructure giant Keppel Corporation, for example. Formed in October 2017, the master developer of smart precincts in APAC is planning to use data and AI to fine-tune and deliver municipal and facility management services at Saigon Sports City, a 64-hectare residential and sports-oriented development in Ho Chi Minh City, Vietnam.
These services include security and access control, remote monitoring and control of energy and utilities infrastructure.
"Beyond the physical infrastructure, we want to deliver value-added services to residents, businesses and shoppers at the mall, and create new revenue streams by leverage digital technology and drive down the cost of delivering services," said Cindy Lim, managing director of KUS.
Doing so, however, would require KUS to team up with partners and technology experts such as Microsoft, which it is working with to roll out a technology platform from which digital services will be created and delivered.