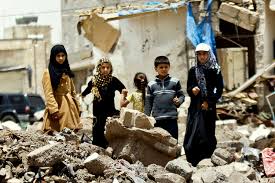 UK, US struggle to cover up Saudi war crimes
YemenExtra
SH.A.
Iranian FM ,Mohammad Javad Zarif has reacted to US failed attempt to condemn Iran at latest UNSC meeting on Yemen, saying US, UK attempted to cover up complicity in Saudi and Emarati war crimes.
There was a UN Security Council meeting on Monday to decide to extend the arms embargo on Yemen, which ended in a diplomatic victory for Russia, dealing a blow to the British-drafted resolution and the United States.
The US-backed resolution was aimed at condemning Iran for alleged role in providing weapons to Ansarullah Movement in Yemen.
Iranian foreign minister's post on Tweeter reads "desperate attempt at UN Security Council by United States and United Kingdom to cover up complicity in 3 years of Saudi and Emirati war crimes in Yemen failed. Since the very beginning,
Iran called for ceasefire, aid, dialogue and an inclusive government. This -not delusion of military victory or accusations-remains the only solution."