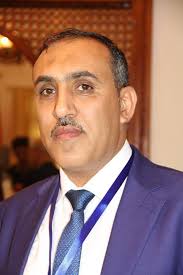 Our Responsibility Towards the Blockade
YemenExtra
By:Abdullah Ali Sabri
Prof. Journalist and the Head of the Media Union of Yemen
The aggression is aimed at targeting us in various ways, in order to break us and subject us to the conditions of the title of peace and humiliation, while others think that it is possible to overcome the economic crisis through limited concessions Ansarallah should waving in preparation for the resumption of political negotiations.
The truth is that our enemy does not care about the crimes of genocide against us.
Yemen's enemy does not have an eyelid although hears the cries of children, the suffering and the whining of the poor, and it has even reached a state of healing when it sees and hears the international appeals about human suffering in Yemen.
Yemen need peace and stability, which makes the Yemeni negotiator very cautious before launching any initiatives for a political solution.
On the other hand, the citizen who is consumed by the fire of suffering does not care or responcible of these details. Although the majority of our people have proved their worth in a dignified life with their steadfastness and sacrifice and circumspection over the political leadership, complaints and complaints about the economic situation are on the rise.
The government has been working to address the domestic gas crisis for days, by offering measures that suggest serious redress to citizens by obliging filling stations at a flat and reasonable rate for gas.
One may ask why such measures have been delayed until the situation worsens. That the lobby of corruption is bigger and more dangerous than to allow such a reform?
The same applies to the prices of oil derivatives, which require urgent government intervention, and with the same degree of firmness that we are witnessing these days .. The citizen will be satisfied with any practical steps leading to the accounting and prosecution of the culprits and participants in this crisis, which affected the basic foodstuffs, under the opportunism that It is practiced by senior merchants and those who collude with them at home and abroad.
The repercussions of the economic crisis are linked to the suffocating siege imposed by the alliance of aggression on the port of Hodeidah in particular.
Unfortunately, our internal protest activities with humanitarian demands are falling day after day, and media have noticed that protests called for their coverage before the United Nations In the capital, Sanaa, you do not find an interactive presence with it!
Therefore, we are on the threshold of the fourth year of aggression. It is incumbent upon us to roar with great voices and masses as well as with organized and progressive steps.
Even those who have not yet heard that there is a humanitarian disaster in Yemen, not by nature, but by a despicable enemy targeting all segments of the Yemeni people, Yemen, unless the siege and aggression cease, also the forces of hegemony and arrogance stop colluding with the US-Saudi alliance.