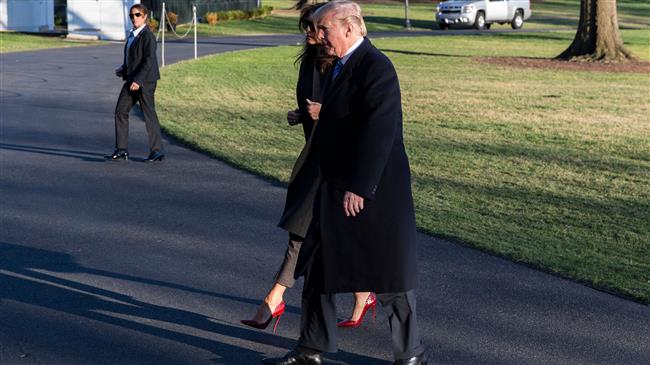 Trump mockingly calls Bush a 'real genius' over invasion of Iraq
YemenExtra
Y.A
US President Donald Trump is attacking former President George W. Bush over his decision to launch a bloody war against Iraq.
Trump reportedly made the comment at a closed-door event with Republican donors in Florida, undermining the former president's intelligence by comparing the decision to "throwing a big fat brick into a hornet's nest."
"Here we are, like the dummies of the world, because we had bad politicians running our country for a long time," said the president, according to a recording his remarks, obtained by CNN.
"That was Bush. Another real genius. That was Bush," Trump joked. "That turned out to be wonderful intelligence. Great intelligence agency there."
He further called the 2003 invasion of the Muslim country the "worst decision ever made" by Washington.
In early 2003, the US, backed by the UK, invaded Iraq under the pretext that the regime of Saddam possessed weapons of mass destruction (WMD). No such weapons, however, were ever found in Iraq.
More than one million Iraqis were killed as a result of the invasion, and the subsequent occupation of the country, according to the California-based investigative organization Project Censored.
The UK's Iraq War inquiry, known as the Chilcot Inquiry, concluded in its 6,000-page report that the policy on the Iraq invasion was based on "flawed" intelligence about the country's supposed WMD.
Many have called for Bush and former British Prime Minister Tony to be put on trial for war crimes in Iraq.
The US invasion of Iraq removed former Iraqi dictator Saddam Hussein's regime, but led to chaos in the country.
That resulted in the rise of terrorism in Iraq as states like Saudi Arabia started promoting Salafism and Takfirism in the country.
Source: Website