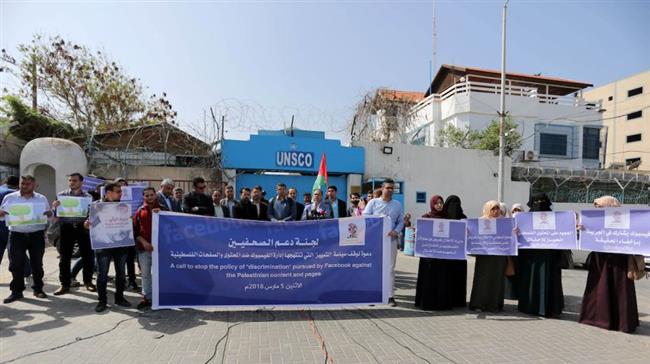 Palestinian journalists, activists slam Facebook for removing pages criticizing Israel
YemenExtra
Y.A
Palestinian activists and journalists have strongly denounced Facebook for blocking dozens of Palestinian pages criticizing Israeli occupation policies.
A large number of activists gathered on Monday in front of the UNESCO headquarters in Gaza City to protest against Facebook's anti-Palestinian policies, Arabic-language Safa news agency reported.
Condemning the measures as a "flagrant assault on freedom of speech," the demonstrators also accused Israel of being behind the Facebook campaign against Palestinian content.
The angry demonstrators described the blocking of Palestinian pages as "persistence in fulfilling Israel's wishes." This is while protesters also accused Facebook of turning a blind eye to Israeli pages involved in "incitement" against the Palestinians.
The latest protests come after the social media giant blocked dozens of accounts and pages in support of the Palestinian cause over the past few months.
Facebook has temporarily suspended or permanently removed more than 100 private and public pages and posts by Palestinians since the beginning of this year.
In 2017, Facebook took action against 200 Palestinian accounts. The measures also included the removal of posts and photos deemed "inflammatory."
Back in September 2016, editors from two Palestinian news publications based in the occupied West Bank said their Facebook accounts had been suspended without giving any reason.
In mid-February 2018, Facebook removed the Hamas-affiliated page, which had more than 180,000 likes.
In recent weeks, Hamas has also repeatedly slammed Facebook over blocking dozens of accounts supporting the Palestinian resistance movement.
Several legal experts have accused Israel of being behind the Facebook campaign against Palestinian content.
Naelah Khalil, a Palestinian journalist, earlier said that the measures "prove that Zionists hands are present everywhere."
Some of the owners and senior officials of Facebook are "Zionists" and are "biased" in favor of Israel, she said, an apparent reference to Facebook's Jewish founder and CEO, Mark Zuckerberg.
Moreover, Palestinians have often pointed out the double standard they believe exists among Israeli authorities' demands that Facebook remove scores of content that have been deemed "incitement."
The Israeli Knesset (parliament) has advanced the "Facebook bill," which would allow Israeli officials to force the social media giant to remove certain content through a court order if there are suspicions of incitement.
Source: Website