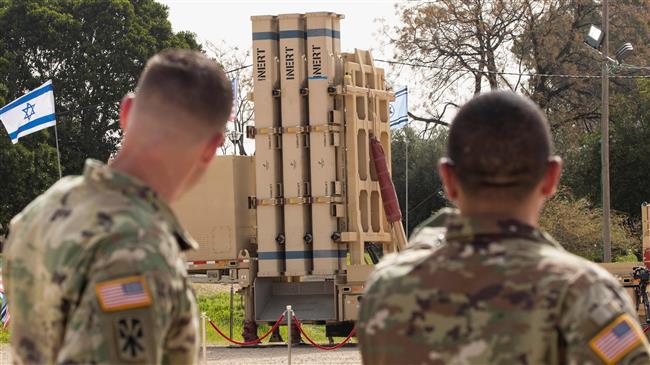 Israel holding joint military drill with US amid threats of new war on Lebanon
YemenExtra
Y.A
Thousands of American and Israeli military forces are holding a month-long joint military exercise in the occupied territories amid the Tel Aviv regime's rising threats of a new war against Lebanon.
US and Israeli officials said Thursday they had launched the so-called Juniper Cobra 2018 military drill that simulates a missile attack on Israel.
Some 2,500 forces, including 1,400 marines and 1,100 naval personnel from the US European Command (USEUCOM) as well as 2,000 Israeli soldiers are taking part in the biennial drill, in what is said to be the largest joint combat exercise between Israel and the US.
Two US Navy vessels have taken up positions off the coast of Israel and will be taking part in the exercise.
During the ninth Juniper Cobra military exercise, the US and Israeli forces will train on the long-range Arrow and Patriot missile systems, the medium-range David's Sling, and the short-range Iron Dome.
Since 2001, Israeli and US forces have conducted a total of eight Juniper Cobra joint combat exercises, including the most recent exercise in February 2016.
Israeli air force commander B.G Tzvika Haimovich said the drill "will serve as an opportunity" for Israel's military "to enhance operational capabilities in the face of high-trajectory threats."
"In the coming weeks we will train together to face complex and challenging scenarios, which are relevant to the dynamic range of threats that we must be prepared to face," he said.
Lt. Col. Tal Kaduri, head of cooperation for Israel's air force, also said the main goal of Juniper Cobra is to see how both forces can answer what he claimed to be "the evolving threats that Iran is posing."
The exercise comes as Israel has recently stepped up its threats against Lebanon, prompting speculation that a new Israeli act of aggression is on the horizon.
Israel waged two all-out wars against Lebanon — in 2000 and 2006 — but fell short of its military objectives in both cases in the face of strong resistance by Lebanon's Hezbollah resistance movement and national army.
Earlier this month, the Israeli military's Major General Yaakov Barak said the next war on Lebanon would focus on killing Sayyed Hassan Nasrallah, the Hezbollah head, among other goals.
Any future war, he added, is expected to be very different from previous ones, and that Israeli ground forces are "ready and prepared" to be sent into the Lebanese territory more quickly, widely and deeply than before.
Ever since their latest military confrontation, Tel Aviv has been taunting Lebanon by violating the Arab country's airspace and territorial integrity.
Over the past weeks, Lebanese and Israeli officials have been engaged in a war of words over Beirut's offshore oil and gas exploration projects.
Hezbollah has vowed to defend the rights of the country in oil and gas exploration in the eastern Mediterranean region against any new Israeli aggression.
Moreover, senior Israeli and US officials held a meeting in Washington last December, during which they agreed to form an alliance to counter Iran in the Middle East region, curb the Islamic Republic's influence in Syria and block Tehran's support for Hezbollah.
Israel reportedly seeks a similar alliance with Saudi Arabia against Iran and Hezbollah.
In November 2017, Nasrallah said Saudi Arabia has appealed to the Israeli regime to launch a military onslaught against Lebanon in the name of fighting Hezbollah, and is ready to spend billions of dollars to attain this objective.
Source: Website