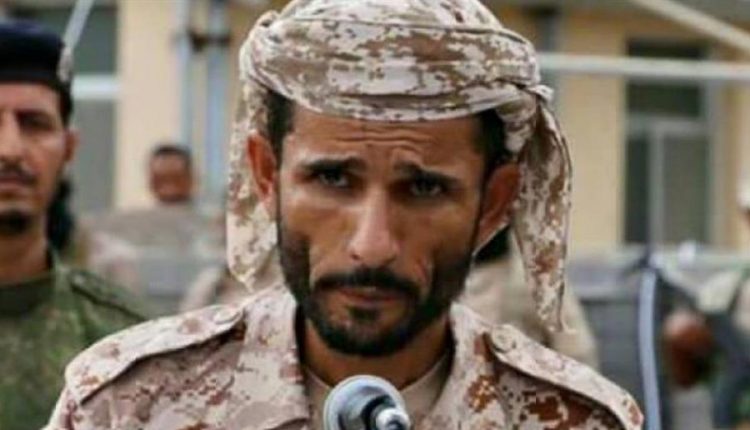 A Yemeni leader vows to expel the fugitve former president Hadi and his government from the south of the country
YemenExtra
Y.A
The commander of the first brigade in the security belt of the UAE ,Mounir Yafei, known as Abu al-Yamamah , threatened of  expelling the fugitive former president ,Abderbo Mansour Hadi ,and his government from the south of the country and to manage the regions of the south instead within days.
During a military ceremony held at the headquarters of the brigade in Brega ,Sunday, he said that during

days the full control over the areas of southern Yemen will take place , specifically Aden , southern Yemen.



Al-Yafi'i added that he would not accept any parties ,loyal to Hadi's government or Tariq Mohammed Saleh ,in Aden, noting that Tariq's forces left Aden and had nothing inside the city.



He attacked the commander of the brigade 115 in Lawder ,Abdullah al-Qafai, accusing him of being a leader of al-Qaeda.



He explained that the government of Hadi understand the language of weapons and that they are ready to dialogue with them in the language of arms and force.

The threat came after the northern forces loyal to General Ali Mohsen al-Ahmar entered Aden during the last few days from Marib province.

Aden city, which was occupied by UK but now under the control of UAE, and the rest of the southern cities witnessed an insecurity situation that increased the assassinations of imams of mosques and security and military leaderships.The province of Aden witnesses a security fiasco that escalated with killings, looting issues , in addition to others that never happened before.
#worldcup2018russia #YEMEN #USA #SaveYemenChildren #US #Saudi #UK #UN #KSA #UAE #ISRAEL #Syria #USAKillsYemeniPeople