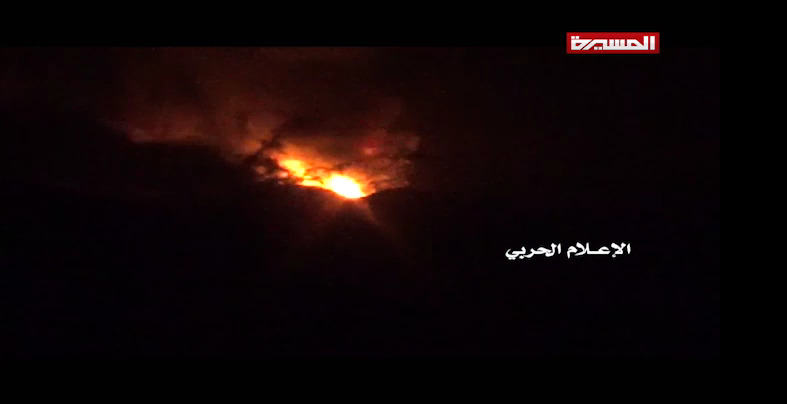 Watch \Successful operations against US-Saudi-led coalition in the West Coast
 YemenExtra
Y.A
The Military Media, yesterday, published scenes of successful operations by the Yemeni army forces against the US-Saudi coalition in Al-Fazah area in# the West Coast.

They destroyed a submachine gun-50 in the south of Hais district.
They also destroyed a large submachine gun-14.5 with a guided missile in Maqbanah junction of Hais, killing and wounding dozens of them.
Additionally, the engineering unit burnt two military vehicles of the paid fighters with explosive devices in the east of Tuhaita district, killing and wounding all those on boards.
The Yemeni army forces regularly target positions inside Saudi Arabia and fire missiles at the coalition in retaliatory attacks against the coalition's campaign on Yemen.
"Saudi Arabia is temporarily halting all oil shipments through Bab el-Mandeb Strait immediately until the situation becomes clearer and the maritime transit through Bab el-Mandeb is safe," Saudi Energy Minister Khalid al-Falih said.
Recently, the Leader of the Yemeni Revolution, Sayyed Abdulmalik al-Houthi said that Saudi Arabia and the United Arab Emirates are seeking to pave the way for Zionism to completely control the Red Sea.In a statement, the leader said both Gulf states, which led a US-backed military coalition, are using the United Nations and its UN envoy as an umbrella to seize control the port city of Hodeidah through baseless justifications.
The Bab el-Mandab Strait, which is the southern entrance to the Red Sea, is one of the world's key shipping lanes for crude oil and allows crude exports into the European market.
The US-Saudi-led coalition  launched an offensive on Hudaydah on 12 June in the largest battle of the war that the United Nations fears risks triggering a famine in Yemen where an estimated 8.4 million people are on the verge of starvation. Recently, It has been paused for peace talks, but no deal has been struck leaving Yemenis pessimistic over a viable political process.