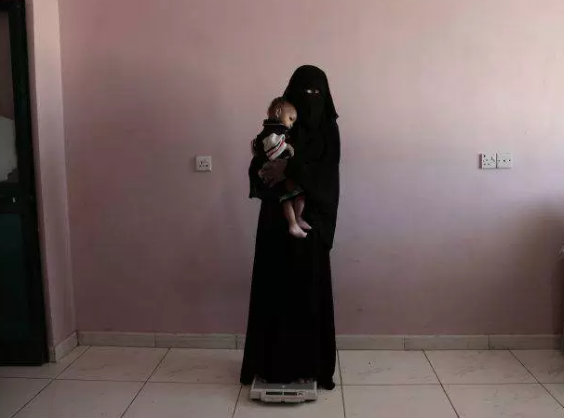 Yemeni Mothers Die of Hunger to Feed their Children, Real Stories
YemenExtra
SH.A.
The young mother stepped onto the scale for the doctor. Even with all her black robes on, she weighed only 84 pounds 38 kilograms. Umm Mizrah is pregnant, but starving herself to feed her children.
And her sacrifice may not be enough to save them.
The doctor's office is covered with dozens of pictures of emaciated babies who have come through Al-Sadaqa Hospital in Aden, casualties of a three-year war in Yemen that has left millions of people on the edge of famine.
Mothers like Umm Mizrah are often the only defense against the hunger that has killed thousands. They skip meals, they sleep to escape the gnawing in their stomachs. They hide bony faces and emaciated bodies in voluminous black abaya robes and veils.
The doctor asked the mother to get back on the scale holding her son, Mizrah. At 17 months, he was 5.8 kilograms (12.8 pounds) — around half the normal weight for his age.
He showed all the signs of "severe acute malnutrition," the most dire stage of hunger. His legs and feet were swollen, he wasn't getting enough protein. When the doctor pressed a finger into the skin of his feet, the indentation lingered.
Around 2.9 million women and children are acutely malnourished; another 400,000 children are fighting for their lives, in the same condition as Mizrah.
Nearly a third of Yemen's population — 8.4 million of its 29 million people — rely completely on food aid or else they would starve. That number grew by a quarter over the past year.