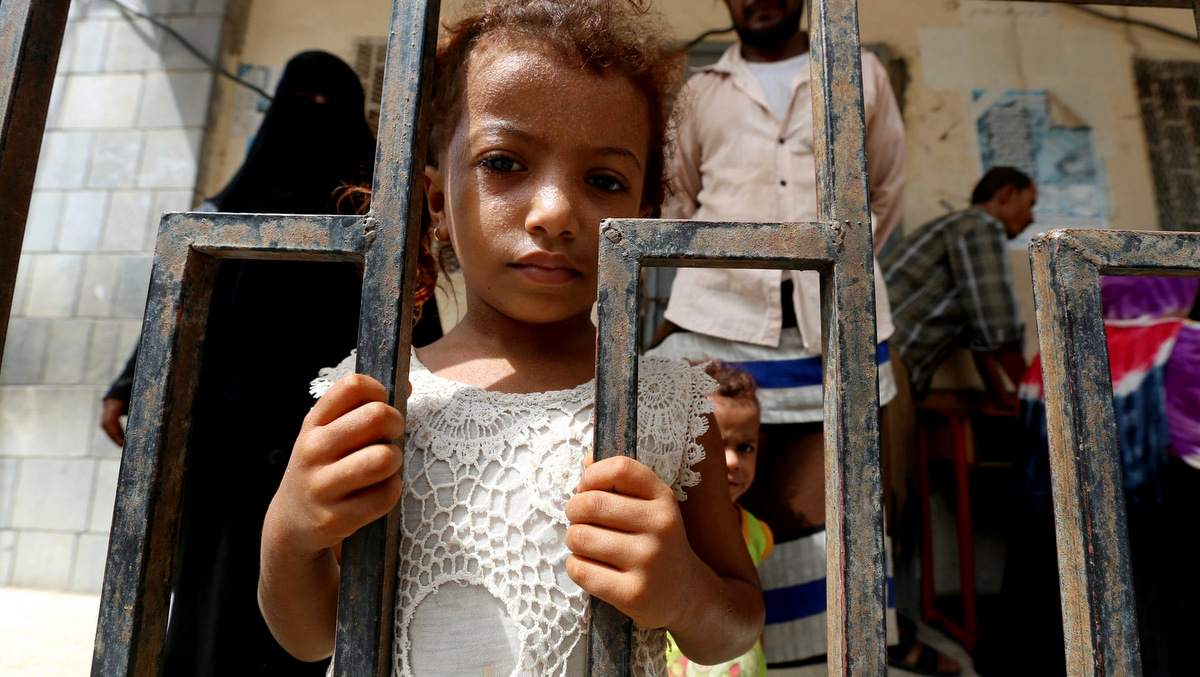 After Peace Talks Fail, Saudi Coalition Reverts to Scorched-Earth Campaign Against Civilians in Yemen
YemenExtra
M.A.
HODEIDA, YEMEN — Not long after UN-brokered peace talks between Yemen and the Saudi coalition in Geneva failed last week, the Saudi-led coalition renewed its offensive to capture Yemen's strategic port of Hodeida. The attacks targeted internally displaced persons, vital facilities and infrastructure– continuing a scorched earth campaign that has left scores of dead civilians in its wake.
"Please doctor, save my mother, she will die!" begged nine-year-old Mohammed as he and his brother Amran stared at their dead mother, who died from injuries sustained when a Saudi airstrike hit their family car Friday on the highway between Hodeida and Sana'a in the Kilo 16 district on the outskirts of Hodeida. The family was attempting to flee to Sana'a.
Lying in blood-stained clothing on a bed in Hodeida Hospital's emergency room, Mohammed, who hung on to his mother's purse despite the shrapnel in his hand, recounted the events which led him there:
We were moving furniture from our home in Kilo 16 to the truck. When a bomb suddenly hit us. My mother was killed and I, my brother and sister were wounded."
At least 10 civilians, including women and children, were killed and dozens injured by Saudi-led coalition airstrikes in Hodeida and Sadaa on Friday. Just two days prior, coalition aircraft bombed Hodeida's Kilo 16 district, killing 15 civilians and injuring dozens more, most of whom were hit when they were forced to flee down the only road that links Sana'a and Hodeida.
The deadly attacks come after U.S. Secretary of State Mike Pompeo defended the Saudi coalition following international pressure after the coalition targeted a school bus full of children.
In a written memo, Pompeo 'certified'  that the Gulf monarchies waging the war in Yemen were taking "sufficient steps to protect civilians."
The governments of Saudi Arabia and the United Arab Emirates are undertaking demonstrable actions to reduce the risk of harm to civilians and civilian infrastructure resulting from military operations of these governments."
 Despite Pompeo's statements, attacks on civilians show little sign of abatement
In another fresh attack by the U.S.-backed coalition, ten civilians including women and children were killed when Saudi airstrikes targeted their family home in the village of Hwara in the Ganiyah district on Monday. Three journalists and a guard were also killed when Saudi airstrikes targeted the Hodeida Radio building Sunday, and two were people were killed and one severely injured after a fishing boat off the island of Al-Sawaba was targeted on Saturday.
The worst may be yet to come
Five hundred meters south of Kilo 16, where Mohammed family was hit, local mercenaries employed by the Saudi coalition shelled a United Nations World Food Program (WFP) food silo inside the Yemen Company for Flour Mills and Silos (YCFMS).
The UN food storage facility held large quantities of wheat for the WFP and was responsible for milling about a quarter of the wheat flour the agency distributes to some of the hungriest people in the country, according to the UN.
Speaking to reporters in Geneva on Friday, WFP spokesman Herve Verhoosel said:
Humanitarian workers, infrastructure and food supplies have been targeted in recent days, as clashes are still ongoing near the Red Sea Mills silos, a critical facility for WFP operations. A mortar shell launched by an unidentified armed group also hit a WFP warehouse in Hodeida city, holding enough food to assist 19,200 people, wounding a guard at the warehouse. The fighting could impact WFP's ability to supply up to 3.5 million people in dire need in northern and central Yemen for a month."
Earlier, the chairman of Ansar Allah`s (Houthi's) Supreme Revolutionary Committee, Mohammed Ali al-Houthi, warned in a Twitter post that Riyadh had plans to attack food storage facilities and silos across Hodeida under the false pretext that they were being used to store weapons.
The Ministry of Public Health and Population, based in Sana'a, also warned in a statement that the Saudi-led coalition wanted to target UNICEF food stores and World Food Program grain silos in Hodeida, to "push Yemenis to starvation by various means."
This comes amidst a worsening famine in Yemen which has left thousands of families in many provinces, including Hodeida, with nothing to eat, leaving some to resort to eating the leaves off of trees in an attempt to stave off starvation.
Fleeing becomes almost impossible
Like hundreds of families, Mohammed lost his mother when they were driving the Kilo 16 thoroughfare linking the port city of Hodeida to the capital, Sana'a. Serving as the only major road to Sana'a, the thoroughfare has left civilians exposed to deadly coalition attacks as they attempt to flee the fighting in Hodeida.
The road has been difficult to traverse since June 13, when forces from Saudi Arabia and the United Arab Emirates launched a wide-ranging operation to capture Hodeida's strategic seaport. With airports closed thanks to a coalition blockade, there are no humanitarian corridors to allow civilians to flee or ambulance crews to transport the wounded to Sana'a. The coalition has also blocked internet access across most of Hodeida, making it almost impossible for residents to contact the outside world.
The coalition claims its attacks on the Kilo 16 thoroughfare are intended to cut off the Houthis' main supply route but have provided no evidence to back their claim. The Houthis likely do not rely on the asphalt road where they could easily be spotted and targeted by coalition aircraft.
The fighting for Hodeida has effectively shut down the main artery linking the port city to the rest of the country, Save the Children charity said Thursday.
Yemen: Military action near Hodeidah City threatens food supplies for millions of children – Yemen

Tamer Kirolos of Save the Children said "it's quite literally a matter of life and death" for the main road linking Hodeida to the capital Sana'a to remain open adding"
This year alone we expect some 400,000 children under five to suffer from severe acute malnutrition … Unless supply routes remain open this figure could increase dramatically, putting the lives of thousands of children at risk from entirely preventable causes."
For its part, the Norwegian Refugee Council (NRC) has called for the port of Hodeida and the arteries that lead to and from it to remain open. NRC spokesman Jan Engelan said:
Hodeida is not a trophy and its citizens are not toys … A single act of force to disrupt the flow of supplies from Hodeida would be a deadly blow for millions."
By 13 September, 7 vessels were berthed at #Hodeidah port, carrying 79,000 metric tons of food & 30,000+ metric tons of gas oil. Any disruption or threat to the safety of shipments could strangle the Yemeni economy & impact access to food for more than 20 million people. 5/6
"#Hodeidah is not a trophy and its citizens are not toys. Parties to the conflict must take real & immediate steps to protect civilians, homes & hospitals in the city," said @NRC_Egeland. 6/6https://www.nrc.no/news/2018/september/on-the-record-update-on-situation-in-hodeidah-yemen2/ …

On-the-record update on situation in Hodeidah, Yemen | NRC

"Hodeidah is not a trophy and its citizens are not toys. Parties to the conflict must take real and immediate steps to protect civilians, homes and hospitals in the city. Hodeidah Port must remain …
Aid agencies in Yemen have identified close to 500,000 people who had fled their homes in Hodeida between June and August, the NRC said. So far in September, 55,000 people have been displaced across Hodeida, it added, but a large number of civilians are still trapped in their homes.
In Hodeida, No guarantee of safety 
UN humanitarian coordinator, Lise Grande, said in a statement on Thursday:
The situation has deteriorated dramatically in the past few days. Families are absolutely terrified by the bombardment, shelling and airstrikes, as the lives of 300,000 inhabitants hang in the balance in the port city."
Hundreds of thousands of civilians are terrified by fighting in Hodeidah [EN/AR] – Yemen

Arabic News and Press Release on Yemen about Food and Nutrition, Protection and Human Rights, Children, Women and more; published on 13 Sep 2018 by OCHA and UN HC Yemen
"People are struggling to survive," said Grande. "More than 25 percent of children are malnourished; 900,000 people in the governorate are desperate for food; and 90,000 pregnant women are at enormous risk."
Indeed, a family who refused to flee Hodeida were targeted by a Saudi coalition airstrike on Friday, leaving one family member dead and many others wounded. The family, who resided in Hodeida's al-Zurah district, didn't have the means to escape the fighting and feared airstrikes targeting the roads leaving Hodeida.
International human rights groups say Saudi Arabia has committed war crimes by using unconventional weapons, conducting hundreds of airstrikes on residential areas, and hitting civilian targets across Yemen.
Death from above & everywhere else
Back in Hodeida Hospital's emergency room, doctors struggle to save Mohammed and Amran after their family car was targeted in a coalition airstrike while trying to flee Hodeida via the Kilo 16 thoroughfare. The boys, both in a great deal of pain owing to serious injuries to their heads, hands and back, risk death from the chronic shortage of medical supplies in Yemen owing to a complete Saudi coalition blockade of the countries airports, seaports and roads.  The blockade has been in effect since the coalition campaign began in 2015.
To make matter worse, over 1,250 days of near-constant airstrikes by the Saudi-led coalition have reduced Yemen`s hospitals and clinics to rubble and short-circuited its electricity service, while the ruinous blockade has depleted the country's supply of food and life-saving medicine.
Hopes of a UN-brokered agreement to lift the blockade were crushed last week when peace talks between Yemen and the coalition fell through after the UN refused to facilitate the transfer of wounded patients to hospitals outside of Yemen for treatment and to guarantee the safety of a Houthi delegation attending the talks slated to take place in Geneva.
"If the Sana'a negotiating delegation had been allowed to travel to Geneva, I could have saved my father," said Ahmed Abdul Qadeer. His father, who required a kidney transplant not available in Yemen, was one of several patients scheduled to travel with the Sana'a delegation on September 5.
The United Nations said on Saturday that the situation of children in Yemen is getting worse, not better. Globally, Yemen ranks first in the number of children in need of humanitarian aid. Over 11 million children — 80 percent of the country's children — are in desperate need of assistance. Social services are barely functioning as the country is on the verge of collapse.
The U.S.-backed military campaign has not only affected children. Civilians across Yemen have suffered immensely from the campaign, which has left thousands of civilians dead, destroyed the country's infrastructure, and created the conditions for the world's worst cholera epidemic.
Yemen's resistance shows no sign of surrender
Despite Saudi-led coalition claims of complete control over the Kilo 16 district, including to the main road, Mohammad al-Bukhaiti, a top figure in the Houthi Supreme Political Council, appeared on video Thursday on the Kilo 16 thoroughfare denying that claim.
In June, coalition forces tried to overrun Hodeida but were blocked by fierce resistance put up by Houthi fighters as well as local residents, who took up arms against coalition incursion.
Although the coalition has received substantial intelligence, logistical aid and advanced weaponry from United State, it has continued to plow ahead blindly. More than three years and hundreds of thousands dead and injured later, the coalition is no closer to achieving its goals than it was when it began its bloody campaign.
For their part, the Houthis, who comprise a major component of Yemen's resistance movement Ansarullah, show no sign of surrender and still control Sana'a and most other major cities, thwarting Saudi Arabia's efforts to dislodge them in favor of a government more amenable to Saudi policy.
In light of the stalemate and the horrific destruction and loss of life, the Geneva peace talks between should be rekindled. "At least, let Mohammed along with millions of children live in safety as America's children do, and save what can be saved," Mohammed and Amran's father told MintPress.
Top Photo | A girl and her family stand in a school where she and her family were evacuated amid fighting in Hodeida, Yemen. Abdul Jabbar Zeyad | Reuters
This post originally ran on MintPress and was written by Ahmed Abdulkareem.