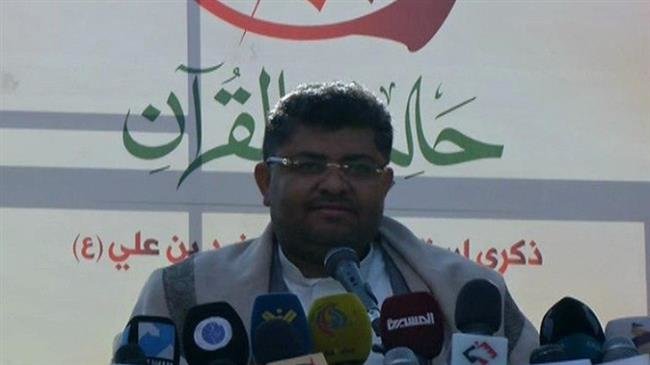 Yemenis to Come Out Victorious from Saudi War: Al-Houthi
YemenExtra
SH.A.
Yemenis will come out victorious from the economic and military war led by the regime in Riyadh against their nation, says the chairman of the Supreme Revolutionary Committee of Yemen, Mohammed Ali al-Houthi.
Speaking during a protest in Sana'a on Friday, Houthi said, "We are with the honorable peace." The Yemeni people, he stated, will defeat the "tyrants" of the world.
He also welcomed the European Union's stance against the war in Yemen, saying the Yemeni people will stand beside whoever wants to stop the aggression.
In this context, thousands of people were protested against the deteriorating economic situation in Yemen. Demonstrators laid the blame for the crisis on the Saudi-led coalition.
Rising food and basic commodity prices have followed the collapse of the national currency. The riyal has lost more than half its value against the US dollar.
Referring to the deterioration of the Yemeni rial, the Houthi official said the stability of the country's currency would be achieved after the aggressors change their decision to transfer the Central Bank from Sana'a to Aden.
The European Parliament on Thursday passed a resolution through which it has called for an urgent ban on all sales of weapons to a Saudi-led coalition which is pressing ahead with a deadly war on Yemen since 2015.
The resolution, which was passed by show of hands, also urged all sides to end the Yemen war, which started to restore its Saudi-allied former authorities.
Saudi Arabia and the UAE as well as the United States say their campaign aims to restore the recognized government of President Abed Rabbo Mansour Hadi and thwart what they contend is an attempt by Iran to seize control in Yemen. Iran denies that the Houthis are its proxy.
But the resulting war has pushed Yemen into the world's worst humanitarian disaster, fragmentation and chaos.