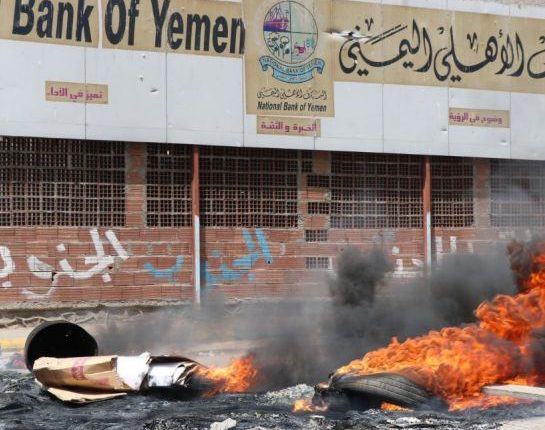 Here what you need to know about the coalition-controlled Yemeni provinces
YemenExtra
Y.A
Aden city, which was occupied by UK but now under the control of UAE, and the rest of the southern cities , on Sunday, witnesse an insecurity situation that increased the assassinations of Imams of mosques and security and military leaderships.
Hundreds of citizens of the southern provinces arrived to Aden city to organize a celebration marking the anniversary of the Yemeni Revolution of 14 October.The mass were faced by the UAE-backed "Southern Transitional Council" paid fighters who stopped them at the outskirts of Aden.The citizens had intention to organize theirs ceremony in Aroudh square in Khourmaksar district.Earlier these paid fighters enhanced theirs presence in the entries of Aden to foiled the ceremony.The so-called "Supreme Revolutionist Council" said that the "Southern Transitional Council" is responsible of promoting hatered and invocations against what it called the "National Movement" in the South.
Paid fighters ,backed by the UAE ,in addition, stormed a police station in the Yemeni southern city of Aden.The gunmen attacked the Mouala police station on the back ground of detaining one of theirs elements inside the prison of this police station.Clashed took place during the storm.
In Hadramout province, a leader of al-Qaeda terrorist organization was granted a diplomatic passport by Saudi-backed exiled Hadi's authorities , according to social activities.Muslim Batis, is the son of a politician in Islamic Islah party (Muslim brotherhood), Salah Batis, was granted the passport by Hadi's deputy Ali Mohsen al-Ahmar.Last week, Hadramout governor, appointed by Hadi, revealed in a press conference in Mukalla city a terrorist cell leads by Muslim Salah Batis.
A citizen was stabbed to death in a personal dispute in the same province .The accident took place in front of the government compose in al-Dais district in Mukalla city.The murderer belongs to al-Ghurabai tribe who launched several stabs in chest of.
Else where in Lahj province, a member of UAE-backed paid fighters , southern Yemen, was killed and three others seriously injured when their military car overturned .
The paid fighters car overturned because of excessive speed.The overturning accidents of military vehicles belonging to the UAE-backed paid fighters or the so-called "security belt force" have become frequent and claimed lives of many citizens because of high speed.
Furthermore, a citizen was also killed in a blast of artillery shell launched by coalition-backed paid fighters .The paid fighters launched the artillery shell to al-Haidiah village of Qabbittah district, killing a citizen, when it exploded.
The southern areas controlled by the US-Saudi aggression forces are witnessing chaos, insecurity and the spread of the Takfiri groups with expansion of their activity. Besides the increasing of assassinations, bombings and clashes between militants fighting for influence among them.
#YEMEN #USA #SaveYemenChildren #US #Saudi #UK #UN #KSA #UAE #ISRAEL #Syria #USAKillsYemeniPeople