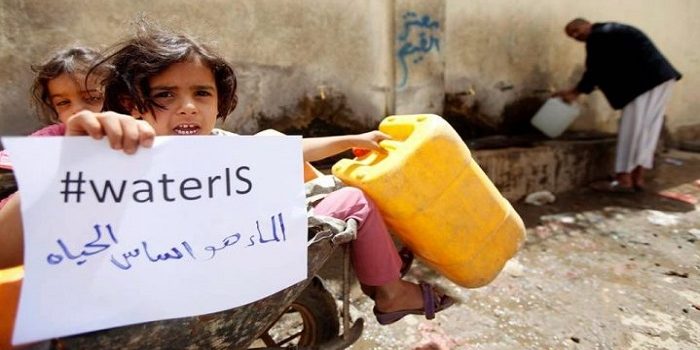 UNICEF warns that millions across Yemen are dying of thirst and starvation
YemenExtra
M.A.
The United Nations Children's Fund (UNICEF) warned on Thursday that millions of children and families across Yemen could soon find themselves without food, clean water or sanitation because of the worsening economic crisis and violence in the city of Hodeidah, where Hodeidah Port, also described as Yemenis' lifeline, is present.
The cost of food, fuel and water has skyrocketed in Yemen as the value of the national currency has deteriorated, Henrietta Fore said in a press release.
Water and sanitation services are in danger of collapse because of the high price of fuel, which means that many people are deprived of clean water and sanitation. That situation could lead to outbreaks of disease and malnutrition, with food insecurity, increasing the risk of famine.
Families that are no longer able to afford basic food items may soon join 18.5 million food-insecure people, the UNICEF Executive Director said.
As soon as the port of Hodeidah was attacked, closed or destroyed, another 4 million children in Yemen would suffer from food insecurity, she added.
The only way out of this nightmare in Yemen was to achieve peace through a comprehensive political solution, she affirmed.
The statement called on all parties to the conflict to comply with their obligations to stop attacks against civilian infrastructure, including the port of Hodeidah, and to ensure unhindered humanitarian access for all necessitous children in Yemen.