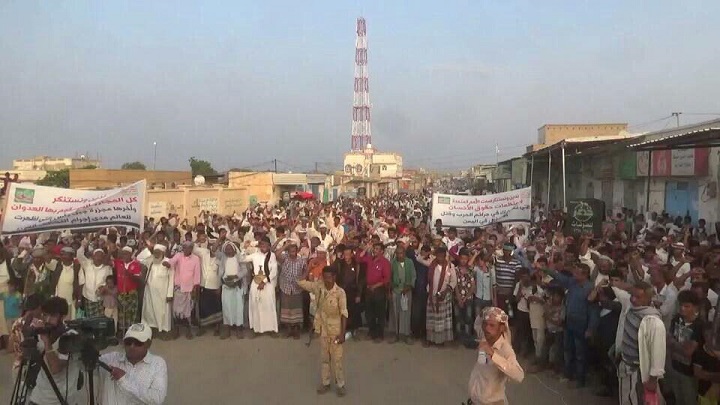 A Massive protest in Hodeidah in commemoration of Saudi crime against prisoners
YemenExtra
M.A.
The people of the district of Zaidiyah, in the coastal province of Hodeidah, held a massive rally in commemoration of the second anniversary of the massacre against Zaidiyah prison committed by the Saudi-led coalition, which killed more than 70 people and wounded dozens of others.
The participants stressed that such massacres committed by the Saudi and Emirati regimes are an expression of their ugliness and aggression, calling on everyone to start taking actions and confront the Saudi-led coalition in order to stop its crimes.
The participants emphasized that to revive such events expose the crimes of coalition and its brutality, stressing that the revival of such events also gives a sign to the coalition that the Yemeni people will not waste the blood of the killed no matter how the coalition put efforts politically or militarily, to make them forget over time.
Participants assured that Yemenis are still demanding the Security Council and the United Nations to form an independent international commission of inquiry and prosecute criminals because they are genocide crimes that every law disclaims it.
During the rally, a statement was held that reminds the people of the Zaidiyah of the second anniversary of the massacre, which targeted prisoners by a Saudi airstrike.
The statement called on the United Nations and international organizations to take a firm stand alongside the Yemeni people who have been subjected to various kinds of crimes for nearly four years, during which they used all means to kill the Yemeni people destroy their infrastructure, culture and educational and economic sectors.
The statement saluted the steadfastness and bravery of the army and the people's committees in the fronts, stressing that the people of Zaidiyah and all other districts should stand united in facing the Saudi coalition and support the fronts with money and men.
The mass rally was accompanied by many participations, such as poetry and dramatic poems that reflect the ugliness of the crimes committed by the Saudi-led coalition.