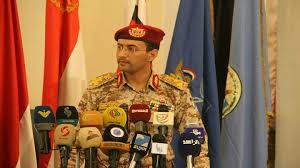 Army spokesman: enemy failed in his attempt to infiltrate toward Hiran from three tracks
YemenExtra
SH.A.
Spokesman of Yemeni army Gen. Yahya Sarie confirmed that the army was able on Sunday to repel a large-scale attack of the coalition-backed forcess in Hajjah and destroy more than 15 armored and pick-up military vehicles.
In a statement, Sarie said that the enemy tried to infiltrate during the last twenty-four hours toward Hiran from three tracks under the intensive air cover.
Sarie pointed out that the army foiled the attempts to advance and carried out a successful process of luring against groups of militias and military vehicles to the minefields, killing and injuring in addition to the destruction of a number of vehicles.
He confirmed that more than 200 of invaders and militias were killed and wounded, including leaders.
The Spokesman praised the steadfastness of the army on all fronts and their high vigilance in the face of the aggression, praising the role of the sons and tribes of Hajjah province who stood by the army in the face of the forces of coalition.
Since 2015, thousands of civilians, mostly children and women have been killed by Saudi-led coalition's airstrikes. As well as reports confirmed that the Saudi-led coalition is committing daily crimes in Yemen.