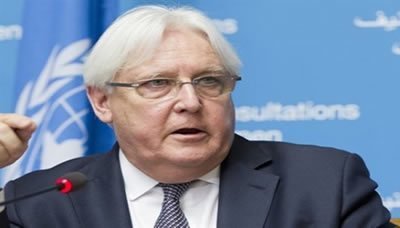 UN envoy arrives at Sana'a Intl. Airport
YemenExtra
M.A.
The United Nations Secretary-General's Special Envoy to Yemen Martin Griffith arrived on Monday at Sana'a International Airport.
The UN envoy headed to Sanaa amid the push to reopen Sana'a International Airport as it remained under Saudi blockade for the past four years.
Al Jazeera's Bernard Smith, reporting from neighboring Djibouti, stated that the reopening of Sana'a International Airport – the country's major international airport – was one of UN's priorities because of the necessity of evacuations.
"There are thousands and thousands of people who need life-saving medical treatment overseas. Yemen's health ministry estimates that between 25,000 and 30,000 people a day are dying because they cannot leave the country via Sanaa airport," he said.
Even as Griffiths pushes for peace talks, Yemen's exiled government have said it will not cooperate with the UN human rights mission, which has been investigating into suspected war crimes during more than three years of conflict.