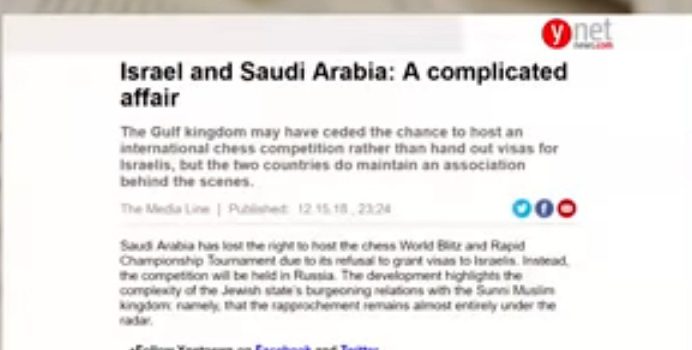 Israel stresses strong ties with Saudi Arabia, including war onYemen
YemenExtra
Y.A
Saudi Arabia and Israel have maintained ties behind the scenes despite Riyadh abandoning the hosting of the international chess tournament rather than granting visas to Israelis, Israel's Yedioth Ahronoth newspaper reported.

It added that Saudi-Israeli relations have improved significantly in recent years because of the common security interest to counter Iran's expansion, which confirms, according to observers, an Israeli interest in the war launched by Saudi Arabia and its alliance against Yemen since March 2015 under the pretext of fighting Iranian expansion.

The newspaper pointed out that the informal association between Riyadh and Tel Aviv is in its initial stage and is conditional on the current geopolitical reality, which may be transient, according to the newspaper.
In a related context, the United Arab of Emirates bought weapons from Israel to kill the Yemeni people, an Israeli Journalist and academic researcher at Begin-Sadat Center for Strategic Studies said.
"The United Arab Emirates has purchased arms from the Zionist entity to kill Muslims," Edy Cohen said on his Twitter Account on Saturday, adding that Palestine does not manufacture weapons".
#YEMEN #USA #SaveYemenChildren #US #Saudi #UK #UN #KSA #UAE #ISRAEL #Syria #USAKillsYemeniPeople