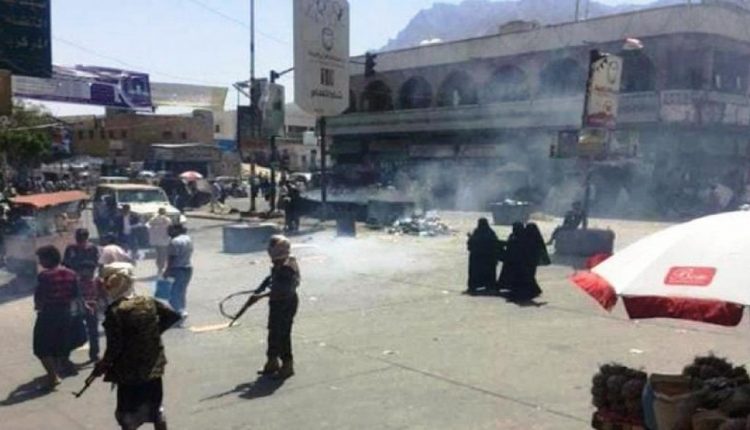 Southwest Yemen witnesses high tension!
YemenExtra
Y.A
Taiz has been witnessing violent confrontations between Salafist paid fighters led by Abu Abbas and Islah party paid fighters led by the city's security, following which hundreds of families have been displaced from the city to Sanaa run by the Supreme Political Council, seeking a safe place to stay.
Unknown gunmen late assassinated two soldiers from the so-called "22nd Mika Brigade" loyal to Saudi-led coalition, backed by the US, in the city of Taiz.
Unknown gunmen opened fire on the two soldiers, who are brothers Mohammed Saleh and Ahmed Saleh, at Al-Kahraba crossroads next to Yemen News Agency's headquarters in central of the city, killing them immediately, according to sources.
The incident comes hours after the dismantling of two explosive devices placed among the piles of garbage next to Al-Modhaffar Hospital in the old city of Taiz.
A number of Islah paid fighters took control of al-Thawra hospital in Taiz province, southwestern Yemen. Three militapaid fighters nts of Islah party on a military pickup belonging to the Taiz axis, raided and took control of Al-Thawra hospital and its main gate, adding that paid fighters closed all the hospital departments except the emergency sector supported by Médecins Sans Frontières (MSF).
The Yemeni security forces seized on Thursday two trucks of the UN of the World Food Programme (WFP) carrying 1,600 bags of expired flour in the province.
According to the official, staffs of Standards and Metrology Authority in the province proved that the expired flour and is not suitable for the human use due to the spread of insects and larvae into it.
Informed security sources reported that a checkpoint belonging to Islah party's militias in Thabab area has arrested a terrorist of an Arab origin . The terrorist is an Algerian, named Mohammed Abu al-Qasim, who was arrested while trying to enter the city of Taiz from Aden.
In March 2015, the US -backed –Saudi-led coalition started  a war against Yemen with the declared aim of crushing the Houthi Ansarullah movement, who had taken over from the staunch Riyadh ally and fugitive former president Abd Rabbuh Mansur Hadi, while also seeking to secure the Saudi border with its southern neighbor. Three years and over 600,000 dead and injured Yemeni people and  prevented the patients from travelling abroad for treatment and blocked the entry of medicine into the war-torn country, the war has yielded little to that effect.
Despite the coalition claims that it is bombing the positions of the Ansarullah fighters, Saudi bombers are flattening residential areas and civilian infrastructures.
However, Saudi Arabia relies heavily on the US in its brutal war on Yemen. Washington has deployed a commando force on the Arab kingdom's border with Yemen to help destroy arms belonging to Yemen's popular Houthi Ansarullah movement. Washington has also provided logistical support and aerial refueling.
#YemenCantWait #YemenGenocide #Yemen #Yemencantwait #YemenGenocide #Yemen_children #StoparmingEmirates #StoparmingSaudi #Stopthewaronyemen#LivingInYemenOnTheEdge#SoldarityWithThePeopleOfYemen