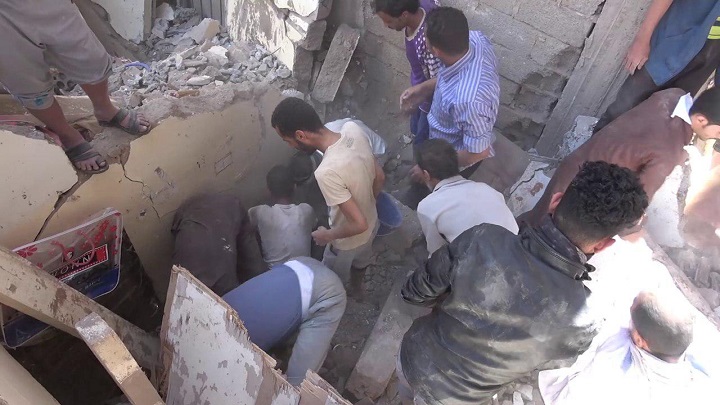 Ministry of Health: 77 killed or wounded after Saudi American raids rocked capital Sana'a
YemenExtra
M.A.
The Ministry of Public Health and Population announced on Thursday that at least 77 civilians are left between killed or injured after the Saudi-led coalition, backed by the US/UK/UAE, targeted a residential neighborhood "al-Rakas" in the capital Sana'a.
The spokesman of the Ministry of Health, Dr. Yousef al-Hadhri said that after the completion of the victims' recovery operations buried under the rubble, the final outcome is 77 killed and wounded.
Al-Hadhri said that the number of killed reached 6, including 4 children from one family and two men, while the number of injured reached 71, including 27 children, 17 women and 27 men.
In the same context, the Minister of Public Health and Population, Dr. Taha al-Mutawakil, announced earlier that the toll of the victims in the neighborhood of al-Rakas in the capital Sana'a is 6 killed, including 4 children from one family and more than 54 wounded as the final toll, calling on residents of the capital to donate blood.
The rescue teams continue to search for victims stranded under the rubble as some civilians are still missing.
The Saudi-led coalition launched a series of raids on the capital Sana'a this morning, including four raids on Attan, three raids on the outskirts of the Movenpick Hotel and two raids behind the Qatari embassy in Noqm. Two more airstrikes were launched at al-Nahdain area while an air raid hit September 21st Park in al-Thawra district.