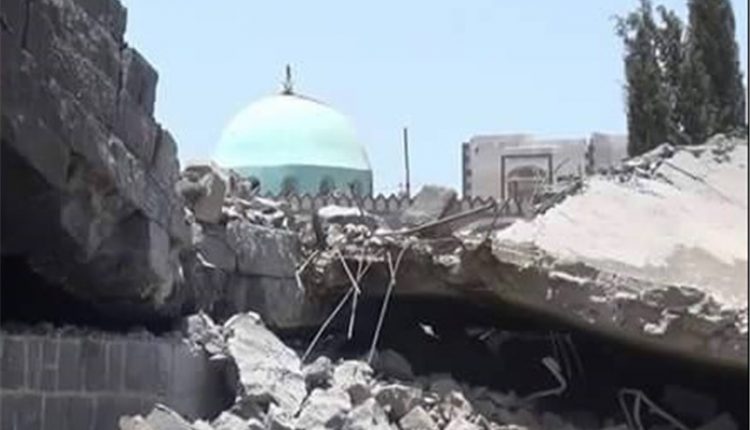 More than 1000 mosques destroyed in Saudi-led war on Yemen
YemenExtra
SH.A.
During the Saudi-led aggression on Yemen over the past few years, as many as 1,024 mosques have been fully or partly destroyed in the Arabian Peninsula country, the official Adnan Qafla said.
Speaking to IQNA at the 27th Tehran International Quran Exhibition, Adnan Qafla, Ansarullah's foreign relations official, said many of these mosques targeted by the coalition were founded by the Holy Prophet's (PBUH) companions or Imams (AS).
He added that a large number of copies of the Quran in the mosques were also destroyed in the bombings.
He described it as one of the worst crimes in history but stressed that the Saudi-led aggression has only strengthened the steadfastness of the Yemeni people and their devotion to the Quran and Ahl-ul-Bayt (AS).
Leading a coalition of its allies, Saudi Arabia invaded Yemen in March 2015 in an attempt to reinstall fugitive former president Abd Rabbuh Mansour Hadi, who had resigned amid popular discontent and fled to Riyadh, and to crush the Houthis.
The imposed war initially consisted of an aerial campaign, but was later coupled with a naval blockade and the deployment of ground mercenaries to Yemen. Furthermore, armed militia forces loyal to Hadi, in line with invaders, launch frequent attacks against Yemeni people in regions held by Houthis.
The aggression is estimated to have left 56,000 Yemenis dead.
The Saudi-led war has also taken a heavy toll on the country's infrastructure, destroying hospitals, schools, and factories. The UN has said that a record 22.2 million Yemenis are in dire need of food, including 8.4 million threatened by severe hunger. According to the world body, Yemen is suffering from the most severe famine in more than 100 years.
A number of Western countries, the US, France, and Britain in particular, are accused of being complicit in the ongoing aggression as they supply the Riyadh regime with advanced weapons and military equipment as well as logistical and intelligence assistance.