Here's how Saudi-led coalition will stop the war on Yemen
YemenExtra
Y.A
Spokesman of the Armed Forces, Brigadier Yahya Saree, stated that a new missile system has been put into service by the Yemeni army forces, stressing that it will be announced during the opening of the exhibition of Martyr President Saleh Al-Sammad for Yemeni military industries.
"The Bank of the targets of our forces includes vital targets that may outweigh the enemy's strategic importance in Oil facilities and pipelines," he said at a press conference on Tuesday.
"Our forces are capable of targeting a number of targets simultaneously and with different weapons," he said. "We are monitoring mobile and non mobile targets that can become a priority in direct and qualitative targeting."
"You are fighting a free people that can not in any way give up their freedom and our people have offered convoys of martyrs during the battles of historic liberation," he said.
Saree said that our people will not hesitate to provide more and more until Yemen becomes as it should be "Battles of historic liberation."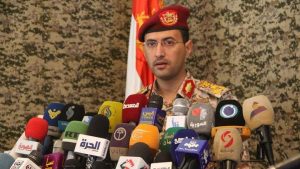 Yemeni attacks have put a spotlight on the missile defenses of Saudi Arabia, Wall Street Journal report says. The country's military is one of the best equipped globally thanks to the world's third-largest military budget, with hundreds of billions of dollars spent on fighter planes, tanks and other military hardware.
But the kingdom's American-made Patriot missile-defense system has a mixed record when it comes to intercepting projectiles from Yemen and isn't primarily designed for repelling drones, it added.
"The recent events show that we are exposed in terms of our defense," said one Saudi official who wasn't authorized to speak publicly, according to the report. While a spokesman for the Saudi military forces didn't respond to a request for comment on the strikes.
The Yemeni spokesman explained that the Rocketry Force had a presence during the past two months in five operations where ballistic missiles were used to target military installations or to use Saudi military targets with 2-winged missiles, 2 short-range missiles and a short-range missile.
He repeated his call to all civilians to deal with our warnings responsibly. Our targeting of these facilities will not stop until the stop of the coalition's war, stressing that our operations may expand to include other legitimate targets within a wider geographic range.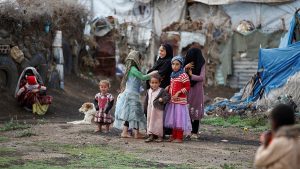 In March 2015, the US -backed –Saudi-led coalition started  a war against Yemen with the declared aim of crushing the Houthi Ansarullah movement, who had taken over from the staunch Riyadh ally and fugitive former president Abd Rabbuh Mansur Hadi, while also seeking to secure the Saudi border with its southern neighbor. Three years and over 600,000 dead and injured Yemeni people and  prevented the patients from travelling abroad for treatment and blocked the entry of medicine into the war-torn country, the war has yielded little to that effect.
Despite the coalition claims that it is bombing the positions of the Ansarullah fighters, Saudi bombers are flattening residential areas and civilian infrastructures.
More than 2,200 others have died of cholera, and the crisis has triggered what the United Nations has described as the world's worst humanitarian disaster.
#YemenCantWait #YemenGenocide #Yemen #Yemencantwait #YemenGenocide #Yemen_children #StoparmingEmirates #StoparmingSaudi #Stopthewaronyemen#LivingInYemenOnTheEdge#SoldarityWithThePeopleOfYemen