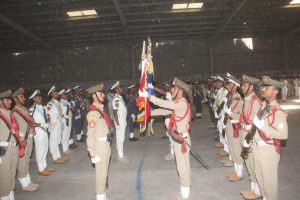 Solemn Military Parade at Graduation Ceremony for 1,500 Officers from Military, Naval and Aviation Colleges
YemenExra
Y.A
A ceremony was held on Monday in Sana'a to mark the graduation of the 52nd batch of the Military College, the 27th batch of the Naval College and the 34th batch of the Aviation and Air Defense College, in conjunction with the celebrations of the Yemeni People on the 5th anniversary of the September 21st revolution and the 57th anniversary of the glorious September 26th revolution.
The Chief of Operations, Brigadier General Mohammad Al-Miqdad, conveyed to the graduates the greetings and congratulations of Sayyed Abdulmalik Al-Houthi, the President, and the leadership of the Ministry of Defense and the Chief of Staff, and wished the graduates success in their practical tasks. The ceremony was attended by the Chairman of the Logistics Support Committee Major General Saleh Al-Shaer and Director of the Higher Military Academy Major General Hussein Al-Rouhani.
Al-Miqdad stated that the Yemeni People are fighting today the most fateful battle with aggression in which they defend the sovereignty and dignity of the homeland. "Here we are the strongest, thanks to God, after five years of aggression. The reach of our Armed Forces and within the bank of our open goals that we can target at the time we want." He stressed that the continued aggression forces in their aggression and siege of the Yemeni People gives the Army the right of deterrent and legitimate response.
Source:al-Masirah