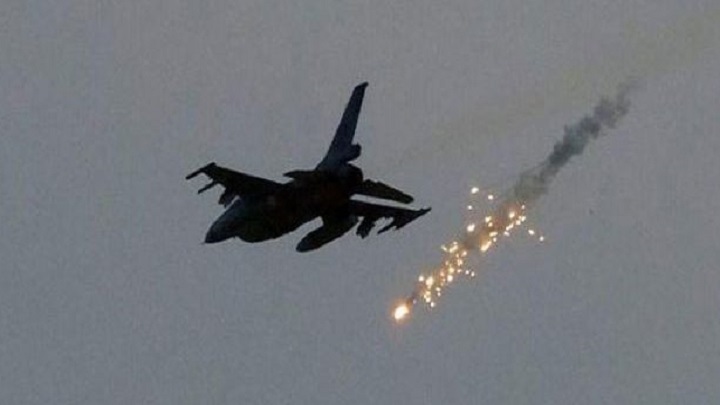 The Saudi-led coalition airstrikes hit Yemeni provinces , commit massacres
YemenExtra
Y.A
Latest Saudi-led coalition, backed by the US, airstrikes killed and wonded at least hundred of Yemenis in many provinces.

The death toll of the coaliion's airstrikes that targeted a citizen's house in Al-Dalea governorate has rose to 16 martyrs, mostly women and children.
"The victims toll of the aggression airstrikes on the house of Abbas al-Halmi in Qatabah, Al-Dhalea governorate, is 16 martyrs, including 7 children, 4 women and 5 men, while one of the paramedics was wounded after targeting them with two airstrikes this morning," Armed forces spokesman Brigadier Yahya Sare'e said in a brief statement.
On Monday, the coalition committed a horrific crime in Al-Sawad area, Amran governorate, where 7 citizens, including women and children of the same family, were killed. The aerial coalition continued further into its crime, where it chased the family, a nomadic family, inside a mosque after fleeing their tent due to raids in the area.
Yemen's Houthi Ansarullah movement says it will stop launching retaliatory missile and drone attacks against positions inside Saudi Arabia if the Saudi-led military coalition, which has been pounding impoverished Yemen for the past several years, reciprocates the initiative in kind.
"We are announcing that we will stop targeting Saudi territories with drones and ballistic missiles and all kinds of targeting, and we will wait for the favor to be returned with a similar or even better one by (Saudi Arabia) announcing a halt to all sorts of air strikes against Yemeni territories," Yemen's Arabic-language al-Masirah television network quoted him as saying.
Mashat's comments came almost a week after Houthi fighters conducted  drone and missile strikes on two of Saudi Arabia's oil facilities, in Abqaiq and Khurais. The attacks led to a halt in about 50 percent of the Arab kingdom's crude and gas production, causing a surge in oil prices.
The United Nations has welcomed a proposal by Yemen's Houthi Ansarullah movement to halt strikes on Saudi Arabia in return for an end to the Saudi-led coalition attacks on Yemen.
In a statement issued on Saturday, UN Special Envoy for Yemen Martin Griffiths stressed "the importance of taking advantage of this opportunity and moving forward with all necessary steps to reduce violence, military escalation and unhelpful rhetoric."
Spokesman for the Health Ministry Dr. Yousef Al-Hadhri earlier this month said that 156 bodies of victims of the prisoners massacre committed by coalition in Dhamar province have been recovered until Wednesday.
In March 2015, the US -backed –Saudi-led coalition started  a war against Yemen with the declared aim of crushing the Houthi Ansarullah movement, who had taken over from the staunch Riyadh ally and fugitive former president Abd Rabbuh Mansur Hadi, while also seeking to secure the Saudi border with its southern neighbor. Three years and over 600,000 dead and injured Yemeni people and  prevented the patients from travelling abroad for treatment and blocked the entry of medicine into the war-torn country, the war has yielded little to that effect.
Despite the coalition claims that it is bombing the positions of the Ansarullah fighters, Saudi bombers are flattening residential areas and civilian infrastructures.
More than 2,200 others have died of cholera, and the crisis has triggered what the United Nations has described as the world's worst humanitarian disaster.
#YemenCantWait #YemenGenocide #Yemen #Yemencantwait #YemenGenocide #Yemen_children #StoparmingEmirates #StoparmingSaudi #Stopthewaronyemen#LivingInYemenOnTheEdge#SoldarityWithThePeopleOfYemen