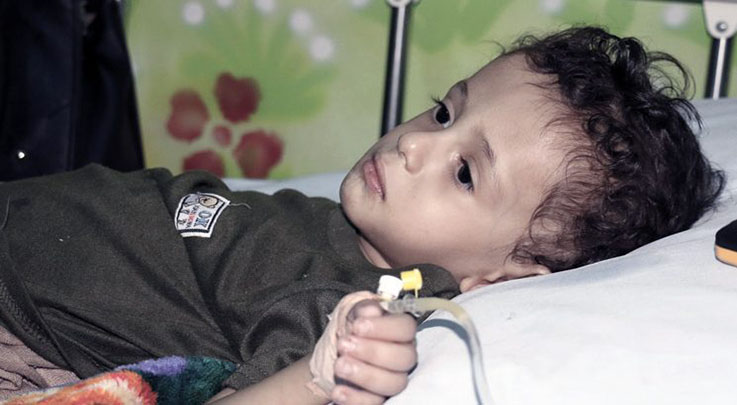 Leukemia Child Mortality Increases Due to Closure of Sana'a Int. Airport and US-Saudi Siege
YemenExtra
M.A.
Director-General of Kuwait Hospital, Dr. Amin Al-Junaid, said that dozens of children suffering from leukemia are dying as a result of the unjust siege of the countries of brutal aggression and the closure of Sanaa Airport.
He said in a statement today, that "the Children's Leukemia Center at Kuwait Hospital is the only center that provides services to hundreds of patients with children with leukemia, noting that the siege of the aggression coalition had a great impact on the treatment of children with cancer."
Al-Junaid pointed that there are dozens of deaths due to lack of Medicines and modest potential. He said that 30% of children with leukemia who could have been transferred for treatment in specialized centers outside the country died as a result of the closure of Sanaa Airport.
He pointed out that the hospital is not able to access the chemical drugs and deliver them to the patients, saying that there are other drugs, radiological devices and supplies that the patients need to prevent the aggression imported.
In the same context, Deputy Director of the Children's Leukemia Center Dr. Naseem Al-Absi revealed that childhood leukemia has spread horribly recently, and we receive 6 new cases every month. She said that children's leukemia cases are specific and the patient needs three years of treatment and diagnostic sessions in light of the great difficulties we face.
"We have 700 cases registered with the drug-poor center, and a pediatric leukemia patient needs full health care and is unable to purchase expensive drugs," she added.
Almasirah English