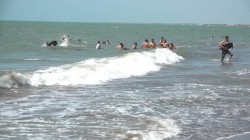 Beaches of Hodeidah crowded with visitors after their opening
YemenExtra
The city of Al-Hodeida has returned to life, after the opening of its cornice and parks along its shores, especially Al Katheeb.
In an enchanting autumnal atmosphere, the parks and beaches were filled with visitors and the movement resounded throughout the city, and joy and happiness prevailed in the hearts of its children, sending messages of pride in the victories achieved here and on various fronts.
The calm, tranquility, stable security conditions, and natural life aspects drew the people and visitors of Hodeida, which made them flock to enjoy its mild weather, beaches, and scenic views.