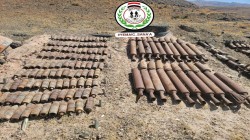 YEMAC: Saudi targeting of assembled war leftovers was to destroy evidence
YemenExtra
The Yemen Executive Center for Mine Action (YEMAC) confirmed on Friday that the aggression's targeting of the hazardous waste collection area in the Al-Masajid area in Bani Matar district, Sana'a province, aimed to hide the weapons used by the aggression to kill the Yemeni people.
The center explained that the aggression's bombing of the assembly area of ​​the center, causing the killing of one of the guards of these remnants, is with the intention of concealing the weapons used by the aggression, including cluster bombs and remnants of the raids, as well as an attempt to hide the danger of these weapons and their sources.
In a statement received by Saba, the center called on citizens not to approach the remnants of the aggression collection area in the Bani Matar district or touch any foreign object in order to preserve their safety.
The statement held the aggression coalition fully responsible for any damage caused to citizens in neighboring villages as a result of the spread of these dangerous wastes.