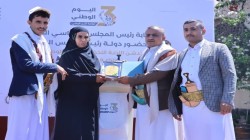 Wide participation in Yemeni Coffee Shopping Festival
YemenExtra
For the second consecutive day, the Yemeni Coffee Shopping Festival, organized on Friday by the Supreme Committee of Agriculture and the Ministry of Agriculture and Irrigation, continues with the slogan "We salute history and cultivate hope."
The festival, with the participation of coffee traders and exporters, and farmers, aims to revive the history, culture, and symbolism of coffee and restore its heritage. Its activities focus on the dissemination of coffee culture as an identity and civilization of the Yemeni people.
The festival includes more than 60 pavilions and exhibits of coffee products and shillings of different types, of high quality.
On the margins of the festival, the Vice-Minister of Agriculture and Irrigation – Vice-President of the Higher Committee on Agriculture, Dr. Radwan al-Robaie, and the Officer of the Coffee Unit of the Agricultural Commission – the Chairman of the Preparatory Committee for the Festival, Mohamed Qassemi, honored Yemen's most famous coffee farmer with the Ministry's shield, who recognized us for their role in growing and caring, protecting and preserving.