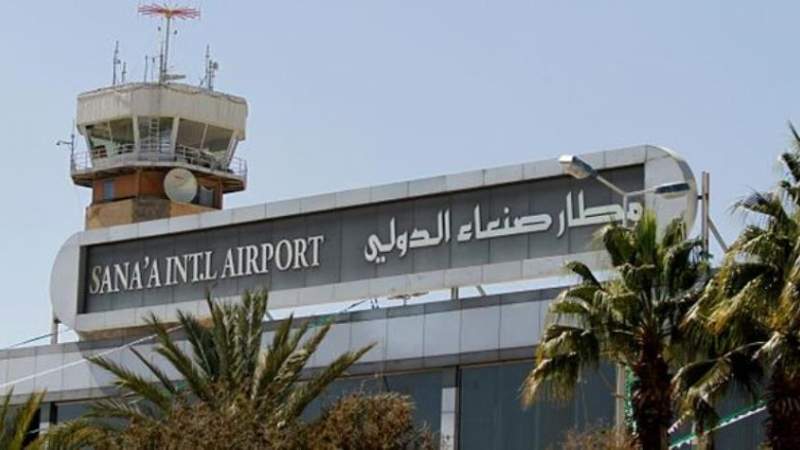 Al-Shayef: Flights At Sana'a Airport Throughout Years Of Aggression Not Equal To Flights Of 2 Months In Normal Situation
Flights at Sana'a airport during the eight years of the US-Saudi aggression are not equal to flights of only two months in the normal situation in 2014, the Director General of Sana'a International Airport Khaled Al-Shayef confirmed on Monday.
"Commercial flights to and from Sana'a Airport over the past eight years did not exceed 1,276 flights, compared to 20,000 flights during 2014 only," Al-Shayef said in a statement to Al-Masirah Network.
He indicated that the number of travelers during the eight years of aggression did not exceed 162 thousand passengers, compared to one million 900 thousand passengers during 2014 only. He added that the amount of air freight during the years of aggression did not reach 721 tons, compared to 16,177 tons during 2014 only.
Al-Shayef pointed out that Sana'a International Airport was receiving daily, during 2014, about 50 flights for 14 carrier companies, and five thousand passengers arrived and departed from it daily.
The US-Saudi aggression imposes a suffocating blockade on Yemen and closes ports and airports to increase the suffering of the Yemeni People and create deteriorating living and economic conditions. It is trying to barter the humanitarian aspect to obtain political and military gains at the expense of the Yemeni People.
With the beginning of the truce in last April, the aggression tried to evade its commitment to open Sana'a airport and make flights only to one destination, Jordan, and for a very limited number.
Sana'a confirmed more than once that the continued closure of Sana'a airport proves the lack of seriousness of theUS-Saudi aggression to bring peace to Yemen.