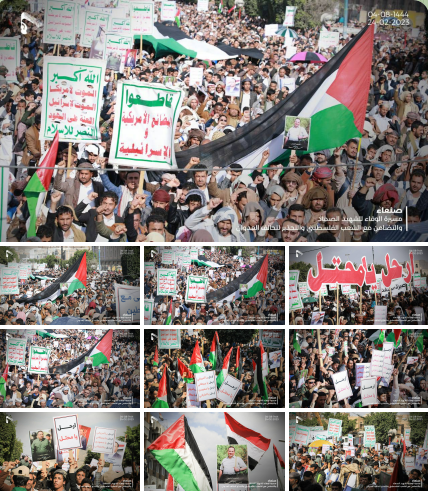 Mass Rallies Held Across Yemen to Celebrate the Martyrdom of Saleh Al-Sammad, Denounce US-Saudi Aggression Towards Yemen, and Show Solidarity With Palestine
Millions of Yemenis have taken part in mass rallies to commemorate the martyrdom anniversary of President Saleh Al-Sammad, in the capital Sana'a and several other provinces, under the banner "Loyalty to the martyr Al-Sammad, Solidarity with the Palestinian people, and Warning to the Aggressors."
Participants in the protest raised Yemeni and Palestinian flags. as well as pictures of the leader of the revolution, Sayyed Abdul Malik Badr al-Din al-Houthi, the martyr leader, Sayyid Hussein Badr al-Din al-Houthi, and the martyr President Saleh al-Sammad.
They also raised banners of freedom condemning America's colonial policy and the US-Saudi aggression and blockade against Yemen.
The participants in the rally chanted slogans expressing their anger towards the US economic blockade on the Yemeni People, blaming the coalition for the continuation of the blockade.
They also chanted slogans of solidarity with the Palestinian people, rejecting the aggression against both Palestine and Yemen.
A statement issued by the rallies, condemned the coalition's brutal aggression and its terrible criminal practices, in which tens of thousands of civilians were killed, including children and women, in the largest attack on Yemen in its history.
The statement stressed that the martyr President Al-Sammad was a sophisticated model for responsible leadership, calling on all officials to follow his example.
It further stressed the supervisory role of the US in the aggression against Yemen, which set Saleh Al-Sammad as a target for Saudi Arabia to assassinate, pointing out that crimes against the Yemeni people will remain in the Yemeni memory.
The statement also affirmed solidarity with the Palestinian people as a humanitarian and religious duty that will not change however strong the injustice and aggression against Yemen is, condemning the normalization with the Zionist enemy, which has occurred in multiple forms and at various levels at the expense of the Palestinian people and the peoples of the region.
The statement renewed the rejection of the US, British, Saudi, Emirati and Zionist military presence in Yemen.
"Yemeni people will not allow the presence of the United States and Britain within the borders of Yemen, and will continuing to liberate Yemen from all foreign occupation," the statement read.
The statement called on countries participating in aggression to stop their aggression, lift the blockade and pay restitution to the Yemeni people for the damage they caused. It demanded that the Yemen's looted wealth and state-funds must be returned to the Yemeni people.
It held the coalition responsible for its crimes against the Yemeni people: looting wealth and stripping the salaries of Yemenis, stressing the coalition to alleviate the humanitarian suffering during future dialogues.
The statement also called for more efforts to activate state institutions to alleviate the suffering of the people, calling on political components to move towards the inclusive priorities of society.