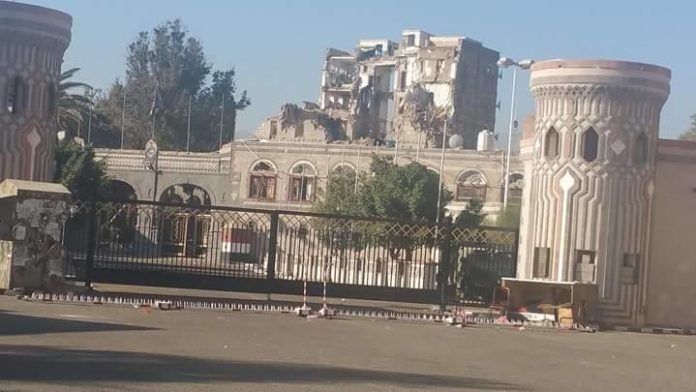 Presidency Of Republic Suffers $11 Billion In Losses Due To Saudi-Led Aggression
The General Secretariat of the Presidency of the Republic held on Saturday a press conference, in which it reviewed the losses of the Presidency institution due to the Saudi-led coalition aggressive war, which targeted the infrastructure of the republican palaces and its affiliated headquarters.
A statement issued by the conference, read by the head of the legal oversight department, Ali Noureddine, said "The US-Saudi aggression coalition targeted the General Secretariat of the Presidency of the Republic for eight years with 1,000 raids, leading to the destruction of the palace, buildings and capabilities of the institution in Sana'a and its branches in the provinces."
He noted that the most prominent crimes against the Presidency of the Republic were the assassination of President Saleh al-Sammad and his comrades, and other martyrs and wounded leaders and employees.
Noureddine estimated explained the Presidency's losses during the eight years amounted to 2,986,337,000,000 riyals, equivalent to more than $11 billion, including direct and indirect losses.
He added that the crimes, violations, tragedies and losses suffered by the Presidency have been documented to enable the state to prosecute the aggression coalition and the perpetrators and oblige them to pay compensation.
For his part, the Head of the Department of Technical Affairs and Equipment, Muhammad al-Hadhrami, indicated that the Republican Palace in the capital, Sanaa, and 21 of its facilities were bombed by the aggression coalition's warplanes with several raids.
He pointed out that the coalition's air strikes targeted the ceremony headquarters at Sanaa airport and the presidential office in Sana'a, as well as the republican palaces in the provinces of Saada, Hodeidah, Taiz, Aden, Hadramout, Mahrah, and Marib.
Al-Hadhrami stated that the republican palaces in the occupied provinces were looted after being targeted by the coalition's warplanes.
The targeting of palaces and their headquarters caused disruption to projects and maintenance, disrupting work, and renting headquarters to receive delegations from the UN and regional mediators, he added.