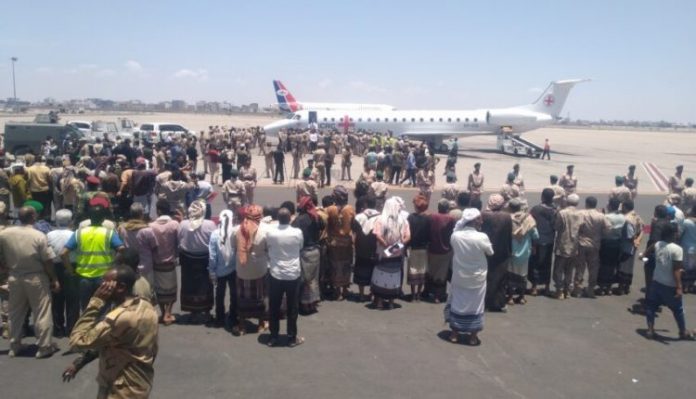 104 Yemeni Abductees, Detainees From Saudi Prisons Arrive In Sana'a
104 Yemeni abductees and detainees who were in Saudi jails arrived on Monday at Sana'a Airport on board two flights of the International Committee of the Red Cross (ICRC), media sources reported.
The Minister of Human Rights, Ali Al-Dailami, said, "Those who arrived today are a group of Yemenis who were kidnapped and arrested from their jobs and places of residence in Saudi Arabia and the border areas, or fishermen at sea."
He added, "The Yemeni abductees in Saudi Arabia were charged with false accusations, as a result of which they were imprisoned for years, at most 14 years."
According to the released abductees, the Saudi regime used the most severe types of physical and psychological torture on Yemeni detainees and abductees in Saudi Arabia and that there were Yemeni abductees who died as a result of torture in Saudi prisons, as well as dozens of wounded, unconscious, and psychological cases.
Earlier, Deputy Minister of Foreign Affairs Hussein Al-Ezzi had said that Sana'a would receive 104 Yemeni abductees today from expatriates in Saudi jails outside of the prisoner swap pact.