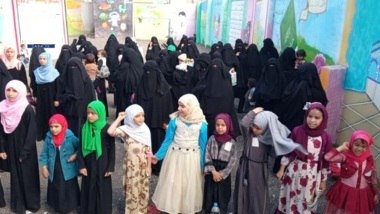 Women's Rallies In Sana'a Province Condemn Zionist Aggression On Gaza
The Women's Cultural Commission of Sana'a province organized on Sunday women's rallies in Hamadan district in condemnation of the crimes of the Zionist enemy against the Palestinian people.
The marches in Al-Haweri and South Sawdah villages protested the Zionist entity's atrocities against the defenseless Palestinian people, which killed hundreds of residents, the most of whom were women and children.
The rallies' statements denounced the world silence on these atrocities, urging for a strong international position to cease such strikes, which do not distinguish between civilians and military targets.
The statements praised the "Revenge of the Free" operation by Palestinian resistance heroes in reaction to the enemy's targeting of resistance leaders in Gaza.