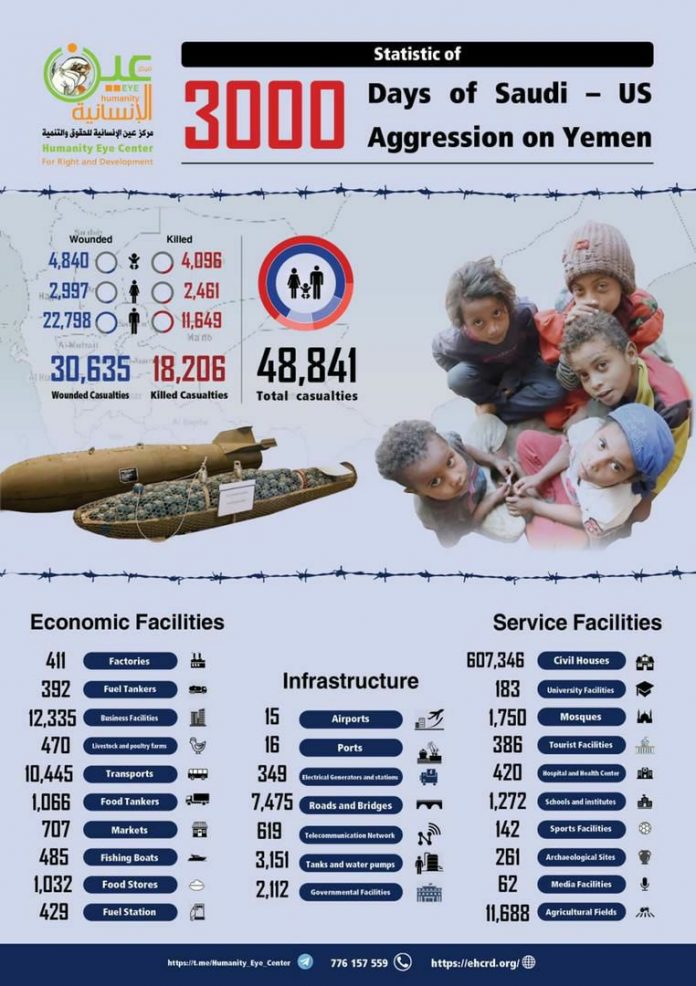 Statistics Of 3,000 Days Of Aggression Against Yemen Released
The Eye of Humanity Center (Ain al-Insiyah Center) for Human Rights and Development has released on Sunday a statistic showing the crimes of the US-Saudi aggression during the past 3,000 days.
The center indicated in its statistics that the total number of civilian victims during the 3,000 days amounted to 48,841. Of this number, there are 18,206 martyred Yemenis, including 4,096 children and 2,461 women.
Regarding the infrastructure, the statistics revealed that the aggression destroyed 15 airports, 16 ports, 349 stations and generators, 619 networks and communication stations, 3,151 tanks and water stations, 2,112 government facilities, and 7, 475 roads and bridges.
The number of economic establishments destroyed by the US-Saudi-Emirati aggression reached 411 factories, 392 fuel tankers, 12,335 commercial establishments, 470 poultry and livestock farms, 10,445 means of transportation and 485 fishing boats.
It revealed that the number of service facilities affected by the aggression amounted to 1,032 food stores, 429 fuel stations, 707 markets, 1,032 food trucks, 607, 346 civilian homes, 183 university facilities, 1,750 mosques, 386 tourist facilities, 420 hospitals and health facilities, 1,272 schools and educational facilities, 11,6 88 agricultural sites, 261 archaeological facilities, 62 media facilities, and 142 sports facilities.