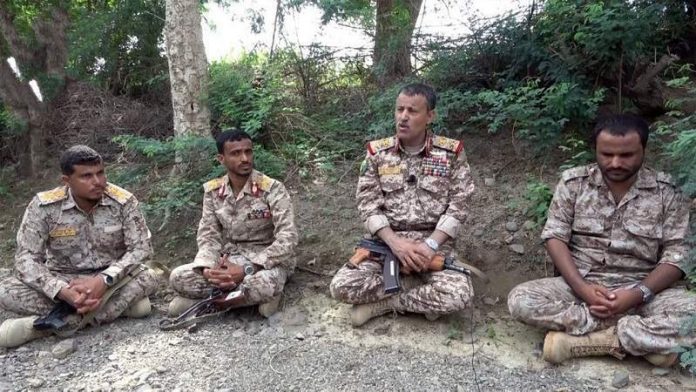 Defense Minister: Yemen Has Legitimate, Legal Right To Liberate All Lands: Defense Minister
The Minister of Defense, Major General Muhammad Al-Atifi, affirmed on Monday that Yemen has the legitimate and legal right to liberate all lands.
During his visit to a number of units of the Fourth Military Region stationed in the districts of Maqbana, Mocha, Al-Barah, Mawza' and Jabal Habashi in Taiz province, the minister said: "No force will stand before us to liberate Yemen, and America and Britain should not continue to push the countries of the Saudi-led coalition to escalate, but they must help them get out of the absurd and barbaric war, unless the whole world will be affected."
"There are occupied lands in our territorial waters in the Red Sea, the Gulf of Aden, the Arabian Sea, the territorial waters bordering the Indian Ocean, and Yemeni islands, but we will liberate them," he went on to say.
"Many countries from around the world have come their fleets to the Bab al-Mandab Strait and Yemeni territorial waters under the pretext of combating terrorism and piracy," the minster al-Atifi said. "Those forces came in order to secure the Zionist enemy, protect their interests, occupy Yemeni lands, plunder wealth and humiliate the Yemenis in the occupied provinces."
He affirmed that America, Britain, France and the rest of the Western countries misbehaved, tarnished their reputation and harmed their interests through the continued support for the Zionist enemy, which will cause harm to the interests of those countries in the region.
"If the coalition continues to escalate, the losses will be great and the price unimaginable," al-Atifi warned, adding that we have military capabilities and capabilities that enable us to achieve great victories.