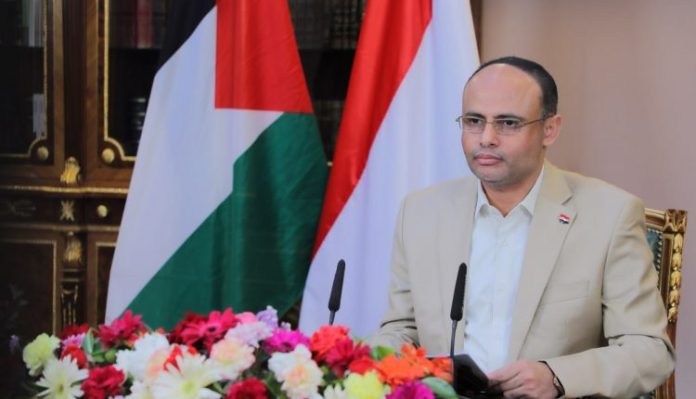 President Al-Mashat Sends Warning Message To Saudi-led Aggression Coalition Countries
The President of the Supreme Political Council, Mahdi Al-Mashat, confirmed on Friday that the October 14 Revolution will continue to grant all those who oppose the Saudi-led aggression coalition and occupation the certificate of the legitimate heir for this last day.
In his speech this evening on the 60th anniversary of the October 14 Revolution, President Al-Mashat said that "the 60th anniversary of this glorious revolution today represents the most accurate and profound standard in revealing the facts and consolidating the process of strict sorting between truth and falsehood."
On 14 October 1963, the people of South Yemen rose up against British colonialism, managing to drive out the colonial occupation and declare the independence of the Democratic People's Republic of Yemen in 1967.
President Al-Mashat affirmed Sanaa's desire for peace, but at the same time expressed deep dissatisfaction with the procrastination of the coalition countries and their refusal to engage in confidence-building measures.
He considered the continuation of the siege not only an indication of a lack of seriousness but also an escalation and a provocative criminal act.
President Al-Mashat called on all those who were involved in contradiction with the principles and literature of the October 14 revolution to correct their positions and take lessons from those who came before them.
President Al-Mashat congratulated the Palestinian people and the Islamic nation for the "Al-Aqsa Flood" operation, "which stuck the nose of the Zionist enemy in the mud."
"This blessed operation represented a transformation and the beginning of history, and the enemy will never recover after it," he said.
President Al-Mashat stressed that what the Zionist enemy is doing against civilians in Gaza has reached the height of terrorism and barbarism, which he considered crimes against humanity, and the enemy would never escape their consequences.
He strongly condemned American and Western positions in general in support of the Zionist entity.
President Al-Mashat expressed his regret at the weakness that the Arab regimes are experiencing in the face of the Zionist occupation entity, calling on the Arab regimes to adopt honorable positions to advocate Al-Aqsa Mosque, provide relief to the people of Gaza and support them with money, men, and weapons, and facilitate the arrival of aid to them.
He urged the Palestinian people to be patient and to exercise their full and legitimate right to respond and defend themselves.