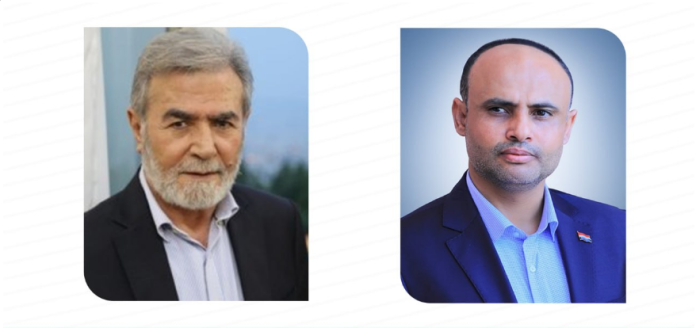 President of Yemen Mahdi al-Mashat Reiterated Unequivocal Yemeni Support For Palestinian Cause
President of the Supreme Political Council in Sana'a, Mahdi Al-Mashat, on Friday confirmed the principled, religious, and moral position of the Yemeni leadership and people in supporting the Palestinian people until complete victory.
This came during a phone call he made with the Secretary-General of the Palestinian Islamic Jihad Movement, Ziyad Al-Nakhalah.
During the call, Al-Mashat congratulated the Palestinian people and the Islamic nation for the "Al-Aqsa Flood" operation, emphasizing that the Palestinian issue is the central issue of the Arab and Islamic nations.
"Palestine is waging, with its mujahideen and heroes, the battle of the entire nation," President Al-Mashat said, noing that the "Al-Aqsa Flood" operation represented a turning point and the beginning of history, and the Israeli enemy would never recover after it.
He considered the Zionist enemy's crimes against civilians in Gaza "condemnable crimes against humanity, and it will not be spared its consequences."
President Al-Mshat condemned the American and Western positions in support of all the crimes committed by the Zionist enemy against the civilians of Gaza.
He praised the unity of the popular Palestinian position and the Palestinian resistance movements in responding to and deterring the Zionist enemy as an important step toward victory for Al-Quds and the full restoration of Palestinian rights.
The President called on all Arab and Islamic countries to take positions in support of the Palestinian people and their militant resistance, support them with money and weapons, and boycott American and Israeli goods.
For his part, Al-Nakhalah expressed his thanks to President Al-Mashat for his communication and follow-up on the Palestinian issue, people, and resistance.
He appreciated the brave, steadfast, and honest position of the Yemeni people, leadership, and people with the Palestinian cause.
"The Palestinians are betting on the Yemeni people to stand up and support the Palestinian people," Al-Nakhalah said.