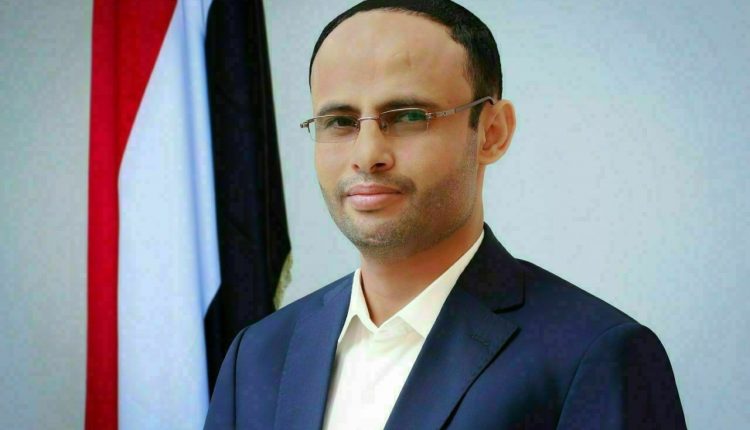 President: Baptist Hospital Massacre In Gaza Is Complete War Crime
His Excellency Field Marshal Mahdi Al-Mashat,head of the Supreme Political Council, considered Baptist Hospital massacre a brutal crime that expresses the criminal behavior of the enemy entity and those behind it, "America the Great Satan."
President Al-Mashat explained in his speech during his visit to Dhamar province today, that the American administration is the feeder, helper and assistant in all crimes committed by the Israeli enemy against the Palestinian people.
President Al-Mashat addressed the Zionists, saying, "You bastard Zionists, if you imagine that with these crimes you will achieve something, then you are delusional, and by God you will only achieve defeat. Defeat awaits you, even if it takes a long time, and you represent the ugly face of global Zionism."
He denounced the official Arab subservience in exchange for the American challenge, and said, "When the American Secretary of State comes to Tel Aviv and declares from there that he came as a Jew, why do you put your heads in the dirt? What are you waiting for, Arab rulers, after this submissive position?".
He pointed out that the position of denunciation and condemnation is not an honorable position towards the crimes that took place in Gaza, including the crime of Baptist Hospital. Pointing out that international humanitarian law classifies the crime of the Baptist Hospital as a war crime, so where is Hague Court? ".
He considered the crime of Baptist Hospital a full-fledged war crime, asking, "Where is the International Criminal Court? There is none…" He added, "From the capital of Arabism, Yemen, I call on the Arab rulers to come so that we may have a position that history will write, otherwise history will curse you if we do not act now."
President Al-Mashat continued: "We can bring the Israeli enemy to its knees, and if America stands with it, it will kneel, if our positions are united," assuring the Arab rulers by saying, "Your peoples will come out against you because they are still free and proud peoples, and they will expel you, expose you, and expose the falsehood of your affiliation."
He stated that every crime committed by the Zionist enemy will bring upon itself a flood and a thousand floods.He said, "The Zionist enemy must realize that its crimes will never stop this flood and this tide, but will also increase it, and I am confident of that."
The President urged the Palestinian people, saying, "Do not be weak and do not be sad, for your blood is our blood and will not be in vain, God willing.
He stressed that the Arab peoples and the Arab Muslim people will not remain silent in the face of these crimes.
He added, "We must incite within ourselves the enthusiasm and spirit of the Arab Muslim who was jealous of a camel's head and waged war for four decades. We must also kindle in ourselves the spirit of revolution, freedom, confrontation, and the spirit of jihad and valor."
He stated that the massacres seen on television would spread to every capital and every country if action was not taken… calling for demonstrations and marches in all cities and action so that everyone would have a position.
President Al-Mashat also called for donating to the people of Palestine and contributing to this battle, pointing out that "whoever does not contribute to this battle, and whoever remains silent is a partner with the Zionists in killing the residents of Gaza."
He went on to say, "The Israeli enemy will not stop. It is a reckless enemy. It was bombing while the Arab summit was in session. If the men of Arabs and Islam stand together, the enemy will stop and take action when it knows that it will pay the price."
The President described "Al-Aqsa Flood" operation as inspiring, which led everyone to the conviction that the filthy, shameless, usurping entity will disappear… stressing that the solution is for the herds of Zionists to leave and not to displace the people of Palestine from their country.
He added, "We, as Arab Muslim peoples, must criminalize anyone who seeks normalization in this region. There is no normalization with an occupier, considering normalization is a legitimization of the survival of 'Israel', which is inevitably fleeting according to the text of Holy Qur'an."
The President of the Supreme Political Council concluded his speech regarding the crimes of the Zionist enemy in the Gaza Strip and the occupied territories by saying, "We will be loyal to Palestine, Islam and Arabism, as Jabri Dhamar is loyal to his principles, his path, and its leader."