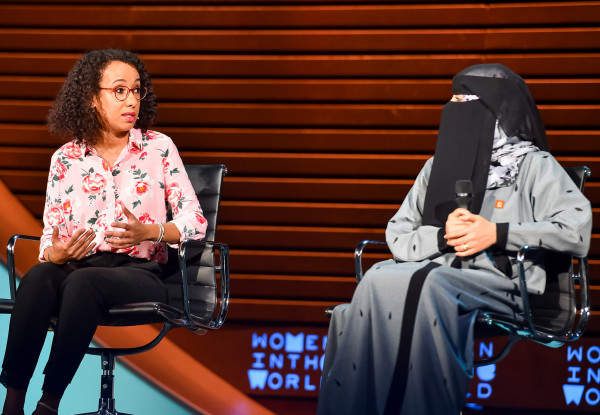 'Death is Everywhere': Bombings, Cholera and Famine Ravage Yemen
YemenExtra
SH.A.
Aid worker Bushra Aldukhainah and journalist Afrah Nasser describe daily life amid the worst humanitarian crisis in the world (Women in the world).
When she heard airstrikes were headed to her neighborhood in Yemen, Bushra Aldukhainah woke up her husband and son early and fled her home. "I cannot forget that day, that feeling, the bitter feeling of leaving home behind, leaving everything behind," she said Friday at the Women in the World Summit in New York. "My son was saying, 'Mommy, can I take my toys with me?' I said, 'I don't think there's time. Let's just run for our life.'"
"We were never able to come back," Aldukhainah said, describing the day she fled her home. "Millions of people were never able to come back to their homes." She was later displaced again: While she was staying with her sister, airstrikes killed two family members. "I had to witness—my son had to witness—this," she said. Later, when airstrikes shook a hotel where her family was staying, her son implored, "Mommy, go and save Yemen."
The war started in 2015, when Saudi-led coalition began bombing the Houthis in an attempt to restore the government. The country has been in chaos ever since.
"Death is everywhere," said Nasser. "If the airstrikes don't kill you, the lack of food and the cholera and the diseases will definitely kill you.
She continued, "Yemenis know that the weapons falling on them are American-made. What's happening in Yemen is being assisted by Western powers that are allies to the Saudi coalition. Considering that it's the largest—the worst—humanitarian crisis in the world today, it's not getting enough media attention."
"It's a forgotten war that nobody is talking about," said Aldukhainah, who suffered from a bout of dengue fever that she feared would kill her. "Nobody knows what's going on in Yemen. We're talking about death of men and women and innocent children … they just woke up to find themselves without any basic services of life—food, shelter."
She added that if all the money spent on weapons had been used instead to care for the sick and starving people of Yemen, "what remarkable change we would have done."