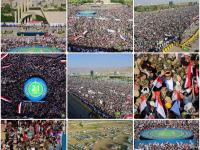 Hundreds of Thousands People Celebrate in the Yemeni Capital
YemenExtra
Y.A
Hundreds of thousands of people have gathered in the Yemeni capital, Sana'a, to revive the third anniversary of the country's September 21 Revolution and condemn the fatal Saudi war against the nation.
The demonstrators in Thursday's mass rally confirmed their commitment to defend the country against the deadly Saudi war.
Big crowds from all over the country have been heading to Sana'a ,since Thursday morning ,to accomadarate the occasion.
A convoy of UAE military forces held by Yemeni joint forces ,during their operations, was also displayed at the rally. The military equipment was being used by Saudi-led coalition on the ground against the Yemeni joint forces
In September 2014, the Ansarullah movement took the state's issues in Sana'a while, the efficient government was absent there.
Before Wrestling control over the capital, the so-called Houthis had set a deadline for the political parties to put aside conflicts and fill the power vacuum, but the deadline was missed without any change in the impoverished country's political scene.
However, the former Saudi-backed president, Abd Rabuh Mansur Hadi, later stepped down, refusing a call by the Houthi movement to reconsider the move.
Hadi then fled to Saudi Arabia, which is along with a number of allies in March 2015 , launched a military campaign against Yemen to reinstall Hadi and crush the so-called Houthi movement.
In a televised speech on al-Masirah TV on Wednesday on the anniversary of the revolution, leader of the Ansarullah movement Abdul-Malik al-Houthi slammed the Saudi-led war against the country.
He appreciated the existing diversity in Yemen's society and warned that the enemy, including the US, Israel and the Saudi-led coalition, seeks to use such conflicts to create divisions in the country and disintegrate Yemen.
Up to 13 ,000 people have been killed since launching the Saudi military campaign which lasted for more than two and a half years . Much of the Arabian Peninsula country's infrastructure, including hospitals, schools and factories, has been reduced to rubble due to the war
Read More:
Major Tribal Delegations Flock to Sana'a to Support Yemeni Fighters