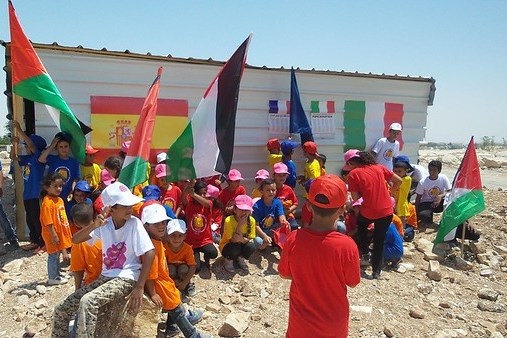 Israeli forces deliver evacuation notices to 300 Palestinians in Bedouin village
YemenExtra
Y.A
Israeli authorities on Friday reportedly distributed evacuation notices to all 300 Palestinian residents of the Bedouin village of Jabal al-Baba in the central occupied West Bank district of Jerusalem, according to official Palestinian Authority (PA)-owned Wafa news agency.
Jabal Al-Baba, according to Wafa, consists of 100 buildings, 58 of which are houses, while the rest are structures used for agriculture. "Because the community is unrecognized, the people in Jabal al-Baba live without electricity and get water only from tanks filled by trucks," Wafa said.
In August, Israeli forces demolished a Kindergarten school in the village.
The hill is populated by some 55 Bedouin families who have inhabited the area for 65 years, and face constant threat of being expelled from their homes.
Israeli authorities plan to build thousands of homes for Jewish-only settlements in E1, which would effectively divide the West Bank and make the creation of a contiguous Palestinian state — as envisaged by the two-state solution to the Palestinian-Israeli conflict — almost impossible.
Rights groups and Bedouin community members have sharply criticized Israel's relocation plans for the Bedouin residing near the illegal Israeli settlement of Maale Adumim, claiming that the removal would displace indigenous Palestinians for the sake of expanding Israeli settlements across the occupied West Bank in violation of international law.
Source: Website