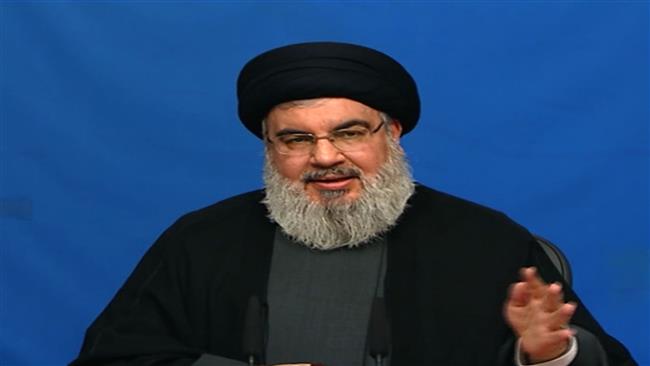 Hezbollah chief to be assassination target in future war: Israeli army
YemenExtra
M.A.
The Israeli military has threatened that Sayyed Hassan Nasrallah, the head of Lebanon's resistance movement, will be a target of assassination in Tel Aviv's next war against the Arab country.
"There won't be a clear victory picture in the next war, though it's clear that Nasrallah is a target," the military's chief spokesperson, Brigadier General Ronen Manelis, told a conference for journalists in the city of Eilat on Monday.
"It is clear that if he dies, it will influence the [military] campaign," Manelis added.
Israel launched two wars on Lebanon in 2000 and 2006, in both of which the Hezbollah fighters inflicted heavy losses on the regime's army.
Nasrallah has repeatedly warned the regime in Tel Aviv against going for another act of aggression against his country, vowing that Lebanese armed forces would give a crushing response to the regime in any future war.
The Hezbollah leader said last month that the Israelis "do not have a correct picture about what is awaiting them if they go to the idiocy of this war."
Elsewhere in his Monday remarks, Manelis admitted that the Israeli army is engaged in psychological and media warfare against Hezbollah.
The Israeli military is "active" in the field of "transition from traditional media consumption to social media…. Just in the past few weeks, we've taken a great many actions that caused consternation on the other side," he added.
Manelis also claimed that the Israeli army "makes daily efforts, both overt and covert, in an effort to push back the next war."
"However the next war will look different" given the Israeli military's capabilities, he said, claiming that though the future confrontation is "difficult in Israel – in Lebanon it will be much worse."
The comments come amid rising Israeli threats of a new war against Lebanon over the past months.
Earlier this month, Lebanon's army chief Commander, General Joseph Aoun, ordered soldiers to stand fully ready on the southern frontier to respond to the Israeli military's "threats and violations."
Israel in September conducted its biggest military drill in almost two decades on the Lebanese border to simulate "the next confrontation with Hezbollah."
READ MORE: 

Hariri says he will resign if Hezbollah does not remain neutral in the region
Last week, Lebanon's President Michel Aoun said his country reserved the right to resist and foil any Israeli aggression.
"Lebanon was able to face the Israeli aggression since 1978 until the 2006 war. It was able to liberate its land. Israeli threats are still ongoing; the Lebanese have the right to fight and thwart it with all available means," he tweeted.
Aoun's comments came after the Arab League accused Hezbollah of "supporting terrorism and extremist groups in Arab countries with advanced weapons and ballistic missiles."
The resistance group is represented in the Lebanese parliament and is part of the unity government formed late last year.
Nasrallah said earlier this month that Saudi Arabia has appealed to the Israeli regime to launch a military onslaught against Lebanon in the name of fighting Hezbollah, and is ready to spend billions of dollars to attain this objective.
The developments come amid widespread reports of a plan by Israel and Saudi Arabia to make their longtime secret ties official and unite against their enemies.
In recent weeks, Lebanese officials have slammed Riyadh for seeking to provoke a political crisis in Lebanon by pressuring Prime Minister Saad Hariri to either take a confrontational approach towards Hezbollah or step down.
PressTV