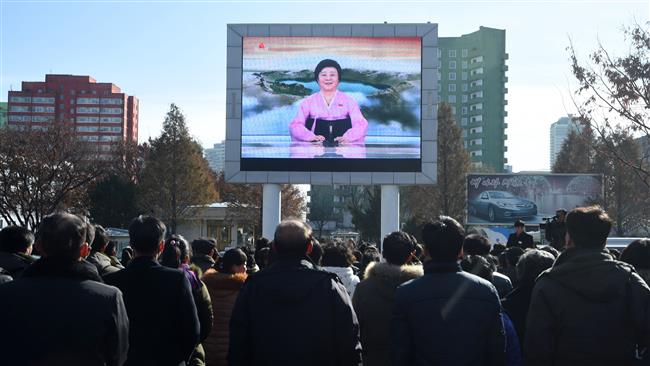 North Korea confirms nuclear statehood, says can now target anywhere in US
YemenExtra
M.A.
North Korea has confirmed that it has now achieved full nuclear statehood after successfully launching a new intercontinental ballistic missile (ICBM), which it says is capable of reaching anywhere in the United States.
Pyongyang launched a new type of ICBM, called the "Hwasong-15," which flew high into space for 53 minutes before landing near Japan in the early hours of Wednesday morning local time, according to a statement carried by the North's official Korean Central News Agency (KCNA).
It said the missile reached an altitude of 4,475 kilometers, higher than any previous missile fired by Pyongyang.
North Korean leader Kim Jong-un declared the test a success, the statement said.
After overseeing the launch, Kim "declared with pride that now we have finally realized the great historic cause of completing the state nuclear force," read the statement.
"The ICBM Hwasong-15 type weaponry system is an intercontinental ballistic rocket tipped with [a] super-large heavy warhead, which is capable of striking the whole mainland of the US," the statement added.
In the statement, Pyongyang described itself as a "responsible nuclear power," saying its strategic weapons were developed to defend its sovereignty and territorial integrity from "the US imperialists' nuclear blackmail policy and nuclear threat."
China expresses 'grave concern'
Meanwhile, China, which is considered North Korea's main ally, expressed "grave concern" over Pyongyang's latest missile launch and once again called for talks to peacefully resolve regional tensions.
Chinese Foreign Ministry spokesman Geng Shuang reiterated the need for a "double freeze" approach, based on which North Korea would halt its weapons tests in return for Washington suspending its military exercises in the region.
He urged all sides to avoid resorting to the military option, which according to him was not a solution for the crisis.
Meanwhile, the latest missile test, the first one in almost two months, has prompted strong condemnations, including from the United Nations (UN)'s Secretary-General Antonio Guterres, who called on North Korea to "desist taking any further destabilizing steps."
"This is a clear violation of Security Council resolutions and shows complete disregard for the united view of the international community," Guterres said in a statement.
Shortly after the test, the US, Japan, and South Korea all called for the holding of an emergency UN Security Council meeting for Wednesday.
Rattled by the early morning missile launch, South Korea almost immediately launched three missiles in a show of force. The South's military said it had conducted missile drills on Wednesday in response to Pyongyang's latest launch.
An Air Force KF-16 fighter jet and a Navy Aegis ship as well as an army missile unit took part in the war games, according to the military.
South Korean President Moon Jae-in said at an emergency meeting in the capital, Seoul, "If North Korea completes a ballistic missile that could reach from one continent to another, the situation can spiral out of control."
According to his office, Moon said, "We must stop a situation where North Korea miscalculates and threatens us with nuclear weapons or where the United States considers a pre-emptive strike."
He also said that there was no choice but for countries to keep applying pressure and sanctions against Pyongyang.
Moon has said the US would have to obtain his country's approval before potentially launching any military invasion of North Korea to stop its missile and nuclear programs. The South fears that any US attack on the North would trigger massive reprisal against South Korea, which is well within North Korean range.
Meanwhile, the Pentagon said that officials in the US, South Korea, and Japan, all agreed the missile did not pose a threat to the US, its territories, or allies.
The US-based Union of Concerned Scientists, however, said the missile was capable of reaching Washington DC. It explained that, based on its trajectory and distance, the new missile would have a range of more than 13,000 kilometers — more than enough to reach the US capital.
PressTV