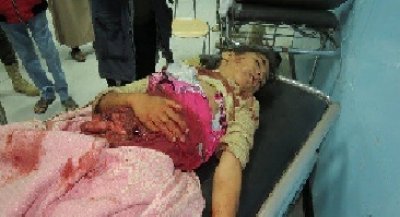 Child killed, 13 civilians wounded in a Saudi American raid on Hajjah
YemenExtra
M.A.
A little girl was killed and 13 citizens sustained injuries due to an airstrike launched by the Saudi-led coalition air force on Mabyan District of Hajjah Governorate on Wednesday.
The Saudi-led coalition conducted a raid on a citizen's home in Shamsan area of Mayan District, killing an eight-year-old girl and injuring 13 additional civilians, local source told YemenExtra.
The airstrike demolished the house and caused damages to the nearby houses, the source added.
The Saudi-led coalition, backed by the US, continues to target innocent civilians amid an international silence.