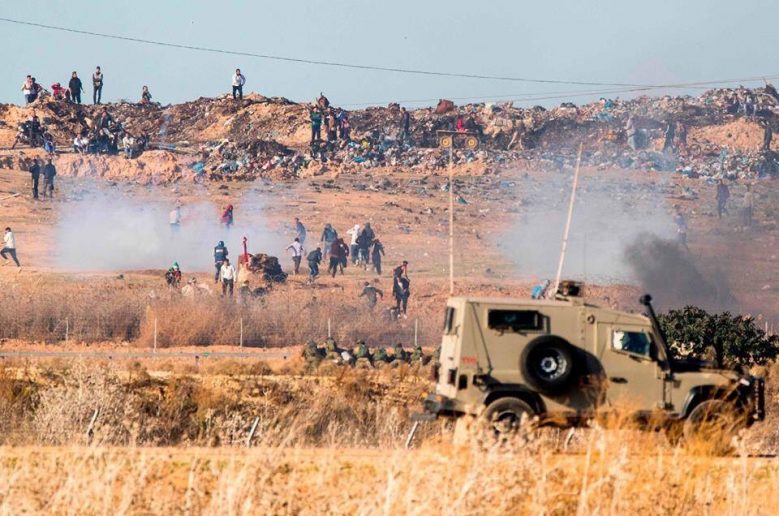 Palestinian killed in clashes with Israeli forces after Trump's Quds move
YemenExtra
M.A.
At least one Palestinian has been killed and about 380 others have sustained injuries when clashes broke out between Israeli forces and Palestinians demonstrating in protest against the recent decision by US President Donald Trump to recognize Israeli-occupied Jerusalem al-Quds as the capital of the Tel Aviv regime despite widespread international opposition to the measure.
Local sources, speaking on condition of anonymity, said Palestinians staged rallies in the central West Bank city of Ramallah, located 10 kilometers (6 miles) north of Jerusalem al-Quds, Bethlehem, Nablus, al-Khalil (Hebron).
Hundreds of people marched from Ramallah downtown to Israel's Bet Eil army checkpoint after Friday noon prayers.
Clashes reportedly erupted between Palestinian protesters and Israeli forces across the West Bank, including the cities of Jenin, Tulkarm, Qalqiliya and Ariha (Jericho).
The Palestine Red Crescent Society (PRCS) said at least 245 people were injured in the West Bank after being struck with either live or rubber bullets, or inhaling excessive amounts of tear gas.
In Jerusalem al-Quds, meanwhile, hundreds of Palestinians marched from the flashpoint al-Aqsa Mosque compound to the Bab al-Amoud (also known as the Damascus Gate) shouting slogans against the United States and stressing the Arabic and Islamic identity of the city.
Israeli forces used live ammunition and teargas in return to disperse the protesters.
The PRCS also reported that it had provided medical treatment to a number of Palestinians, who had been savagely beaten by Israeli troops.
Separately, a protest against the US president's decision to recognize Jerusalem al-Quds as the capital of Israel was held in the besieged Gaza Strip. Scores of people were injured during skirmishes with Israeli forces, and had to be transported to the al-Shifa hospital in Gaza City to receive medical treatment.
The Palestinian Health Ministry said Mahmoud al-Masri, 30, was shot to death by Israeli forces in Gaza's southern city of Khan Yunis. It also said at least 134 people were injured in the clashes. The ministry retracted its earlier statement about the death of another Palestinian in clashes in Gaza, saying, however, that the protester was in critical condition.
On Wednesday, Trump announced his decision to recognize Jerusalem al-Quds as Israel's capital and relocate the US embassy in the occupied lands from Tel Aviv to Jerusalem al-Quds.
Jerusalem al-Quds remains at the core of the Israeli–Palestinian conflict, with Palestinians hoping that the eastern part of the city would eventually serve as the capital of a future independent Palestinian state.
PressTV