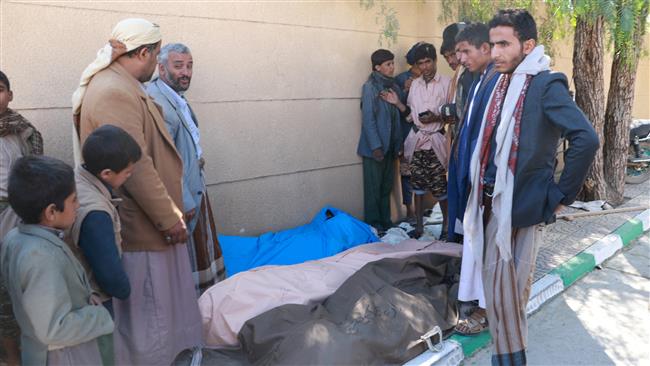 Unexploded bomb goes off in western Yemen, kills 4 children
YemenExtra
M.A.
At least four children have lost their lives and five others sustained critical injuries when an unexploded bomb dropped by Saudi military aircraft went off in Yemen's western coastal province of Hudaydah.
Local sources, speaking on condition of anonymity, told Yemen's Arabic-language al-Masirah television network that the children were playing in an area of al-Sukhnah district in the province, located 150 kilometers southwest of the capital Sana'a, on Saturday when the incident happened.
Separately, five Yemeni children were killed in Saudi aerial assaults against residential buildings in the Arhab district of Sana'a province.Elsewhere in the mountainous northwestern province of Sa'ada, Saudi airstrikes left two women dead and as many injured in Razih district.
Earlier in the day, two people were killed and several others injured when Saudi warplanes bombarded an area close to Arhab University in Sana'a.
Saudi airstrikes also left two children and a woman injured in the Sanhan district of the capital province of Sana'a.
Additionally, Saudi aerial attacks against residential buildings in the west-central province of Ma'rib killed two civilians.
Three other civilians also died in Saudi strikes across Hudaydah province.
More than 12,000 people have been killed since the onset of Saudi Arabia's military campaign against Yemen more than two and a half years ago. Much of the Arabian Peninsula country's infrastructure, including hospitals, schools and factories, has been reduced to rubble due to the war.
The Saudi-led war has also triggered a deadly cholera epidemic across Yemen.
According to the World Health Organization's latest count, the cholera outbreak has killed 2,167 people since the end of April and is suspected to have infected 841,906.
On November 26, the United Nations children's agency (UNICEF) said that more than 11 million children in Yemen were in acute need of aid, stressing that it was estimated that every 10 minutes a child died of a preventable disease there.
Additionally, the UN has described the current level of hunger in Yemen as "unprecedented," emphasizing that 17 million people are now food insecure in the country.
It added that 6.8 million, meaning almost one in four people, do not have enough food and rely entirely on external assistance.
A recent survey showed that almost one third of families had gaps in their diets, and hardly ever consumed foods like pulses, vegetables, fruit, dairy products or meat.
More than three million pregnant and nursing women and children under the age of five also need support to prevent or cure malnutrition.
PressTV