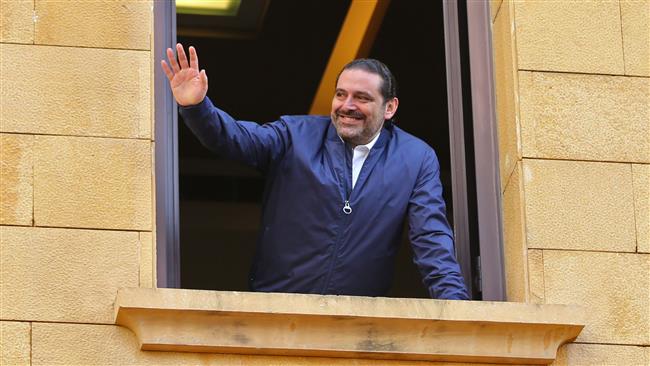 New details emerge of Saudi Arabia's treatment of Hariri
YemenExtra
M.A.
A leading US daily has revealed new details of Saudi Arabia's degrading treatment of Lebanese Prime Minister Saad Hariri during a recent trip to Riyadh, where the Lebanese leader was coerced into reading a prepared resignation speech under conditions similar to that of a captive.
Prime Minister Hariri abruptly declared his resignation from a then-unknown location in Saudi Arabia and from Saudi-owned television on November 4, accusing Iran and Hezbollah of interfering in the region and signaling that that was his reason to quit.
That drama ended when Hariri returned to Lebanon on November 22 — partially after a diplomatic intervention by France — and rescinded his resignation on December 5.
While some details had already emerged of the circumstances of Hariri's three-week stay in Saudi Arabia, more appeared in a Sunday report by The New York Times, which used information from "a dozen Western, Lebanese and regional officials and associates of Mr. Hariri" to draw a better picture of what happened to him in Riyadh.
Hariri, who reached a power-sharing deal with Hezbollah in 2016 and who had formerly attempted to convince Riyadh of the need to work with Hezbollah, met with Ali Akbar Velayati, a senior Iranian adviser to Leader of the Islamic Revolution Ayatollah Seyyed Ali Khamenei, on November 3.
"That may have been the last straw for the Saudis," the report said, adding, " Within hours, Mr. Hariri received a message from the Saudi king — come now — ahead of a meeting that had been scheduled days later."
A well-connected Lebanese analyst was cited as saying that Hariri was also invited to spend a day in the desert with the prince.
"But when he (Hariri) landed in Riyadh, Saudi officials took Mr. Hariri to his house and told him to wait — not for the king, but for the prince. He waited, from 6 p.m. to 1 a.m. No one came," it said.
The next morning, he was "summoned at 8:30 a.m. to the Saudi royal offices — unseemly early, by the kingdom's standards."
Thinking that he would go camping with the prince, Hariri wore jeans and a T-shirt to the Saudi royal offices.
"But instead he was stripped of his cellphones, separated from all but one of his usual cluster of bodyguards, and shoved and insulted by Saudi security officers," the report said. "Then came the ultimate indignity: He was handed a prewritten resignation speech and forced to read it on Saudi television."
"Before going on TV, he was not even allowed to go to the house he owns there; he had to ask guards to bring him a suit."
'Down the hall from the prince's office'
Information on what happened between Hariri's arrival in Riyadh and the resignation is missing. The Times cited Lebanese officials as describing that interval as the "black box."
"They (the Lebanese officials) said they were reluctant to press Mr. Hariri for details. When asked, one of them said, Mr. Hariri just looked down at the table and said it was worse than they knew."
Hariri, who runs a private business in Saudi Arabia, was "manhanded" by Saudi officials and was also threatened that he would face "corruption charges," according to one official.
He read the resignation speech he had been given "from a room an official said was down the hall from the prince's office."
'Our prime minister has been detained'
"Lebanese officials," the report said, "began making the rounds to puzzled Western diplomats with an unusual message: We have reason to believe our prime minister has been detained."
Hariri "was eventually placed with Saudi guards in a guesthouse on his own property, forbidden to see his wife and children."
Some Western diplomats were allowed to meet with the Lebanese prime minister there. "There were two Saudi guards in the room [during those meetings]… and when the diplomats asked if the guards could leave, Mr. Hariri said no, they could stay."
Opposite effect
The drama was seen as a Saudi attempt to disrupt the political balance in Lebanon to the disadvantage of Hezbollah, which shared power both in the parliament and Hariri's government with other Lebanese factions.
But instead, the Lebanese people of all political inclinations soon came out with massive support for their prime minister, demanding that he safely return and continue work. Hezbollah's Secretary General Sayyed Hassan Nasrallah also voiced support for Hariri.
The report said Western officials were wondering what Saudi Arabia "hoped to accomplish with all this intrigue."
"Several do not rule out the possibility that they aimed to foment internal unrest in Lebanon, or even war."
Mohammed bin Salman has orchestrated a war on Yemen already. Since 2015, Saudi Arabia has been leading a number of its allies in pounding Yemen — already the Arab world's poorest state — causing famine and a cholera epidemic there.
The report said Saudi [Persian] Gulf Affairs Minister Thaber al-Sabhan, who is believed to have been a key figure in the Hariri scheme, "got a withering reception" on a visit later to Washington, where US officials "demanded that Mr. Sabhan explain why Riyadh was destabilizing Lebanon."
Prime Minister Hariri, in the meantime, has been continuing work with renewed support and stronger unity among Lebanese people and political groups.
"Now, Mr. Hariri remains in office with new popularity, and Hezbollah is stronger than before," the Times said.
PressTV