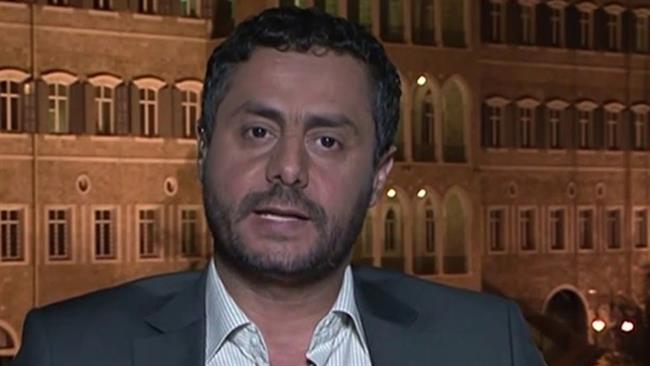 Saudi Arabia, UAE failed to divide Yemenis: Ansarullah
YemenExtra
M.A.
The Houthi Ansarullah movement says Saudi Arabia and the United Arab Emirates have failed to dismantle unity among Yemeni groups.
Mohammad al-Bukhaiti, a member of the movement's Political Council, made the remarks to Lebanon's al-Mayadin TV, the channel reported on Monday.
Saudi Arabia has been leading a destructive military campaign against Yemen since March 2015 in a bid to return its favorite regime to power.
Ansarullah has been defending the nation against the offensive, alongside Yemen's Army and Popular Committees.
Bukhaiti said Ansarullah was trying to establish communication with other Yemeni political groupings, adding the movement was holding meetings with officials from Yemen's General People's Congress and al-Islah political parties.
He said Saudi Arabia and the UAE had approached a number of officials with the parties, but had not succeeded in their goal to sow division in the ranks of the allied groups.
Despite variance in their political perspectives, the official said, Ansarullah and the Congress party saw eye to eye when it came to confronting foreign enemies and defending Yemen's independence and sovereignty.
This, he said, has put the two sides on the same front.
Moreover, both Houthis and the Congress party agreed that the country had to hold an election and devise a new constitution.
PressTV