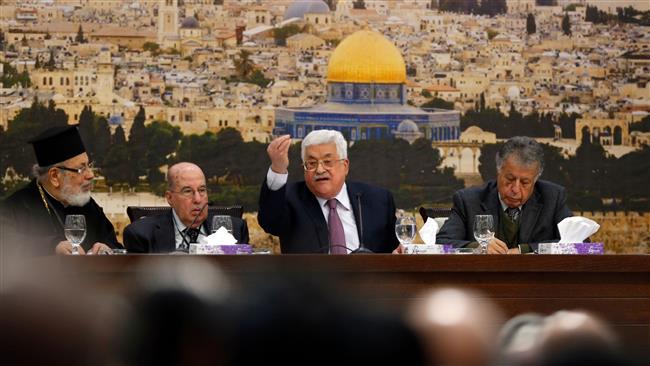 Palestinian Central Council calls on PLO to end recognition of Israel
YemenExtra
Y.A
The Palestinian Central Council has called on Palestine Liberation Organization (PLO) to suspend recognition of Israel in response to US President Donald Trump's decision to recognize Jerusalem al-Quds as the Tel Aviv regime's capital.
On Monday, the council voted in favor of ordering the PLO to halt its recognition of Israel until it officially recognizes the state of Palestine, suspends its annexation of east Jerusalem and halts its settlement activities.
It is still unclear if the council's, which is a high-ranking part of the PLO, vote is binding.
The announcement was made after Palestinian President Mahmud Abbas said that US President Donald Trump's so-called Middle East peace efforts are the "slap of the century" after his al-Quds move.
Last month, Trump announced that Washington would recognize Jerusalem al-Quds as the capital of Israel and would relocate the US embassy in Israel from Tel Aviv to the occupied city.
The entire Jerusalem al-Quds is currently under Israel's control, while the regime also claims the city's eastern part, which hosts the third holiest Muslim site.
The city has been designated as "occupied" under international law since the 1967 Arab War, which Palestinians want as the capital of their future state.
Trump had vowed during his presidential campaign that he would relocate the US embassy in order to court pro-Israel voters.
Source: Website