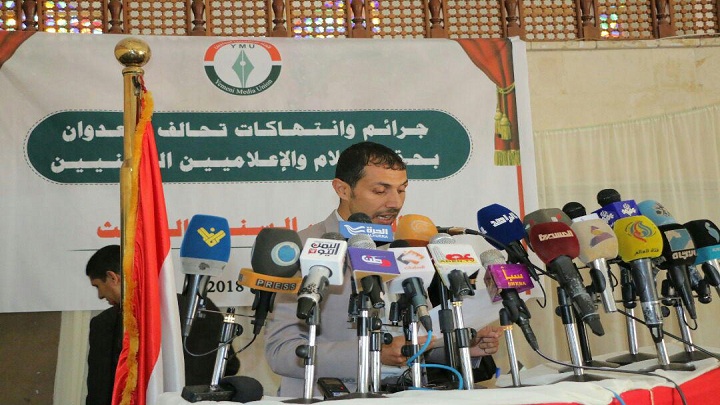 Yemeni Media Union Launches Third Annual Report on April 2018
YemenExtra
M.A.
The Yemeni Media Union launched on Sunday the third annual report on April 2018, which is related to the crimes and violations of the Saudi-led coalition against media and journalists in Yemen.
In a press conference organized by the Union, the Presidential Advisor Dr. Abdulaziz Al-Tarb stressed the readiness to study the obstacles faced by the media and to deal with them in cooperation with the concerned parties in order to enhance the role of the media in confronting the Saudi-led war and thwarting its plans.
He called on the national media and journalists to strengthen cohesion during the current stage, denouncing the assassination of the symbol of the state and the first man President Saleh al-Sammad in airstrikes waged by the Saudi-led coalition.
The head of the Yemeni Media Union, Abdullah Sabri, and the Secretary General of the Union Hassan Sharafaddean noted that the annual report in its third edition monitored a series of violations and crimes that affected the media and the journalists internally by the US-backed Saudi warplanes.
Sabri and Sharafaddean confirmed that the Union's reports reached the Human Rights Council and two seminars were organized in this regard during the last period.
On the other hand, the official of the Committee on Rights and Freedoms in the Yemeni Media Union, Ibrahim al-Wadai, presented the third annual report, April 2018, which included crimes and violations of the Saudi-led coalition against the Yemeni media and journalists.
Among the incidents of violations since April 27, 2017 is the Saudi pressure on the management of the festival of Arab radios and television to suspend Yemeni Almasirah channel from participating in the festival in Tunisia, in addition to a number of civilians being targeted by the coalition's airstrikes, leaving a number of journalists killed or wounded.
Al-Wadai explained that the total number of killed and wounded journalists amounted to 180 killed and 16 wounded. Speaking of additional breaches, there have been five cases of cloning channels, 22 cases of destruction of facilities, 30 cases of targeting radio and television broadcasting centers, seven cases of suspension from broadcasting on Arabsat and Nilesat and seven cases of blocking and disturbing channels.