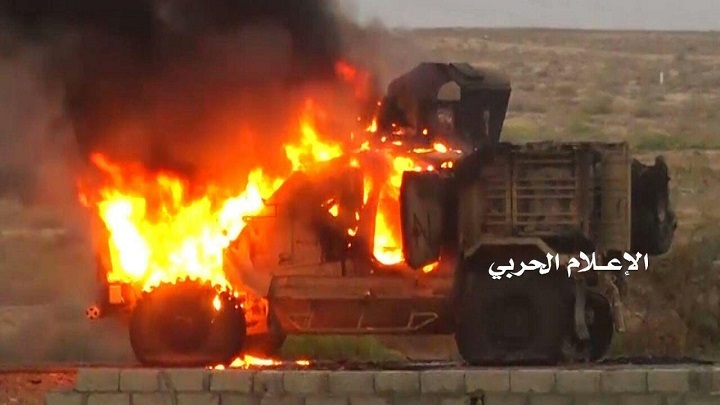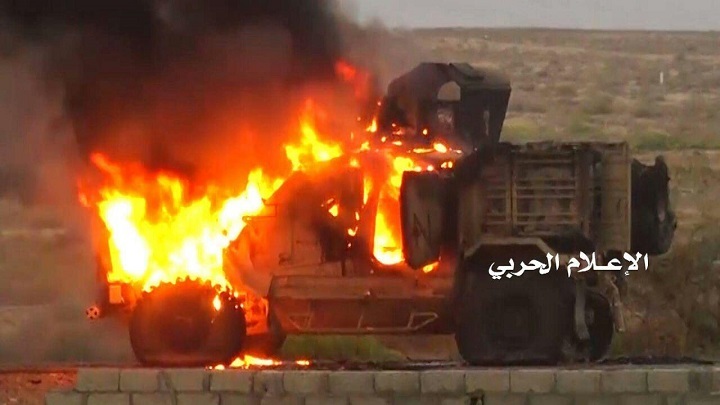 Friday losses amid the US-Saudi-led coalition in the West Coast
YemenExtra
Y.A
Over 14 US-Saudi-led coalition's paid fighters were killed and 20 others were injured as a result of a special operation near Nakhilah area in Duraihmi district in #the West Coast.
 Additionally, five military vehicles of the coalition forces and paid fighters were destroyed, including armored vehicles during the operation.
The Yemeni forces , in addition, carried out a special operation in Tahita district in the west coast , wresting control of a number of hills, according to a military source. Six armored vehicles were destroyed and paid fighters were killed.
Abdulmalik al-Houthi, the leader of the Houthi(Ansarallah)  movement, which is the main force that faces the coallition, said on a TV speech ," The decision of invading the Yemeni ,western coast, has been taken and adopted by the United States of America,noting that the Saudis are trying to abolish Yemen's freedom," stressing that it was the people of Yemen's right to defend their country.
"We are increasingly concerned by the fighting in Hodeidah," UN spokesman Stephane Dujarric said at a press conference held on Wednesday.
Dujarric also warned of the repercussions'consequences on the humanitarian situation
"The occurrence of a battle in Hodeidah, in the west of Yemen could lead to the destruction of the port, which in turn will send millions to starvation," said the British newspaper, The Independent.